Lunch was so good today and I need to share it with you. I made a vegan version of the famous Hungarian Goulash.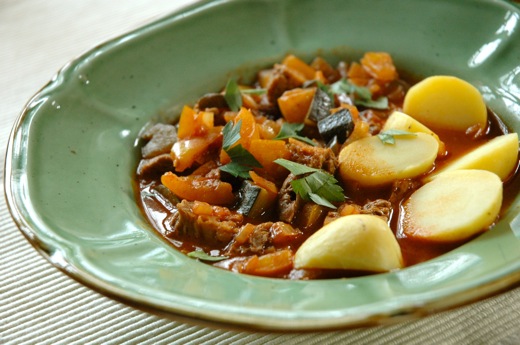 I found this recipe in a magazine and it looked so good that I had to try it. I loved how quick and easy it was to make. It was the first time ever that I cooked with seitan (I know, it was long overdue!) and I really liked its taste and consistency. We ate left over potatoes with the goulash but I'm sure this recipe would also go very well with rice, noodles or baguette. Or eat it without anything, it will still be super good! 😉
For 2 people you'll need:
100g onions
1 garlic clove
1 yellow pepper /german: gelbe Paprika
1 small zucchini
2 tablespoons olive oil
2 teapoons hot paprika spice /german: rosenscharfes Paprikapulver
2 tablespoons pepper paste /german: Paprikamark
1 teaspoon cumin /german: Kümmel
200 ml vegetable stock
250g seitan
3 tablespoons parsley
salt, pepper and sugar to taste
Chop the onions and garlic finely. Wash the yellow pepper and zucchini and cut into 1 cm cubes. Heat the oil in a pot and sauté the onions, garlic, yellow pepper and zucchini. Add the paprika spice, pepper paste and cumin and then deglaze with the vegetable stock. Season with salt, pepper and a pinch of sugar and let cook at medium heat for about 10 minutes. Cut the Seitan into 2 cm cubes, add to the goulash and let cook for another 10 minutes. Season again if necessary and sprinkle parsley on top. Serve hot with potatoes, rice, noodles or baguette.
MerkenMerken
MerkenMerken