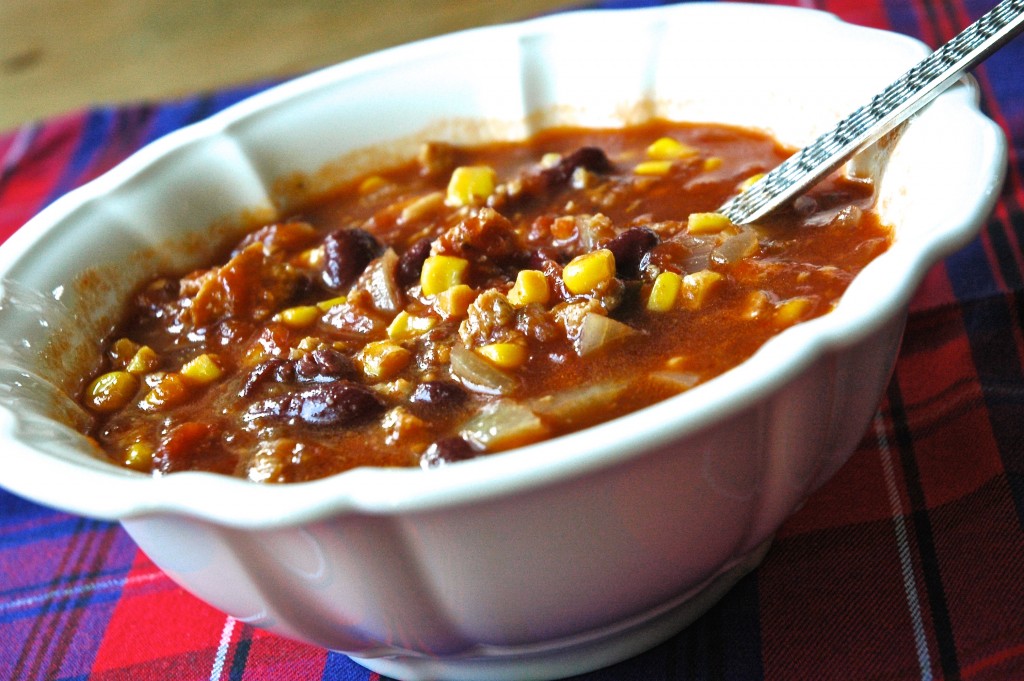 This is one of those dishes I often make when we have big get-togethers. You can prepare a big pot of it in the morning and warm it up when it's time to serve. It's great for a buffet too – just keep it on low heat on the stove, for everybody to help themselves. You'll even win passionate meat eaters with this one. Serve best with rice, baked potatoes, baguette or cornbread.
Chilli 'Non' Carne
For 4 Persons:
2 tbs olive oil
1 large onion
2 cloves garlic, crushed
1 1/2 tsp chilli powder or to taste
8 oz (250g) plant-based mince
3/4 pint (450ml) vegetable stock
1 x 14 oz (400g) can chopped tomatoes
1 x 14oz (400g) can red kidney beans
1 x 10oz (300g) can corn
1-2 mild chillies (optional)
salt
Heat the oil and sauté the onion for 3-4 minutes, then add the garlic, chilli powder and mince and stir until well mixed. Brown for 5 minutes, stirring. Add the stock and the tomatoes with their juice, then leave simmer gently, covered, for 20 minutes. Add the kidney beans, corn and optional chillies and simmer for a further 15 minutes. Season to taste with a little salt if necessary, and leave to stand for 10 minutes before serving to allow the flavors to develope.
MerkenMerken
MerkenMerken