The combination of eggplants and peanut butter might surprise you and I was also very unsure if it would go together before I tried it. It was one of those experiments that could go awfully wrong OR, like in this case, turn out to be surprisingly good!
I didn't take exact measure while I was cooking, but I wanted to share this combination with you anyway. It's a recipe with room for free-styling! 😉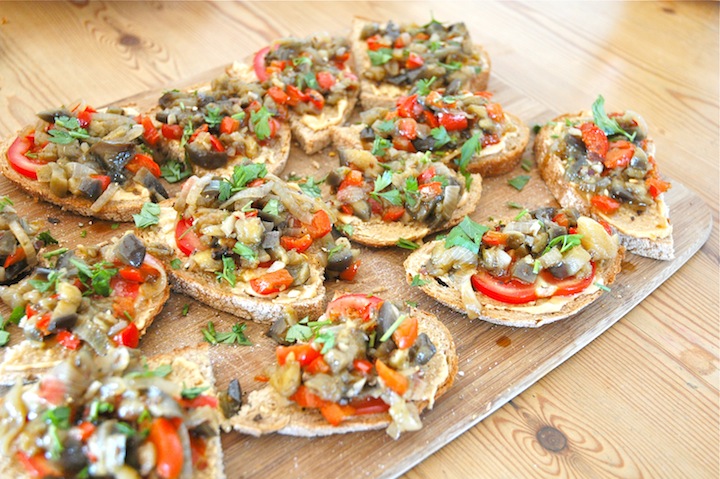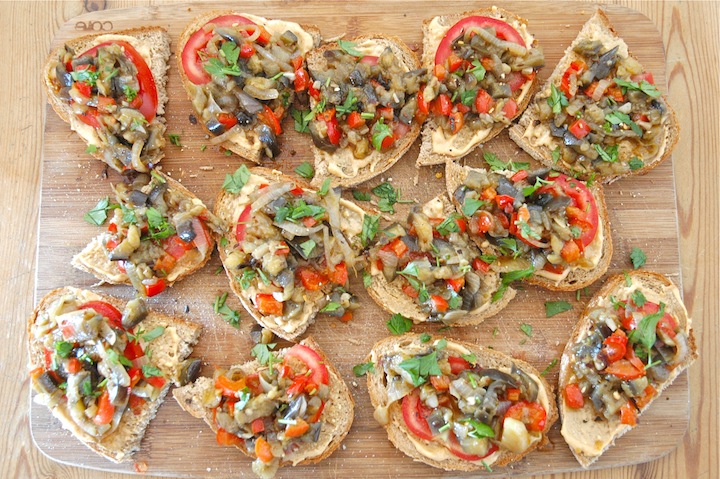 Aubergine Tartine With Peanut Butter
Serves 3-4 people
2-3 tbsp olive oil
1 onion (halved and thinly sliced)
3 cloves of garlic (chopped)
1 eggplant
1 red pepper
a good dash of chilli
1/2 tsp cumin
other spices of your choice
salt
1-2 tomatos
about 5 slices of bread
peanut butter (unsweetened)
parsley fot decoration
Heat the olive oil in a large pan and add onions and garlic. Cook until lightly softened and add the spices. Cut the eggplant and red pepper in small cubes and add to the pan. Add about 1/2 cup of water, so it doesn't burn and cook on medium heat until everything is softened (like on the picture). Adding some water if needed. This might take about 20-30 minutes. Add salt to your liking and let cool down a bit. Meanwhile prepare the bread slices. Spread some peanut butter on it and lay thin slices of tomato on top. Then add the cooked eggplant and sprinkle with some parsley. Bon appetit!
MerkenMerken
MerkenMerken