The way I plan a meal is always different. Either I check what I have at home and improvise, or I look up a recipe and go shop accordingly. Or I get my inspiration from the farmers market where one can find all of the amazing produce that is currently in season. This is exactly what I did today.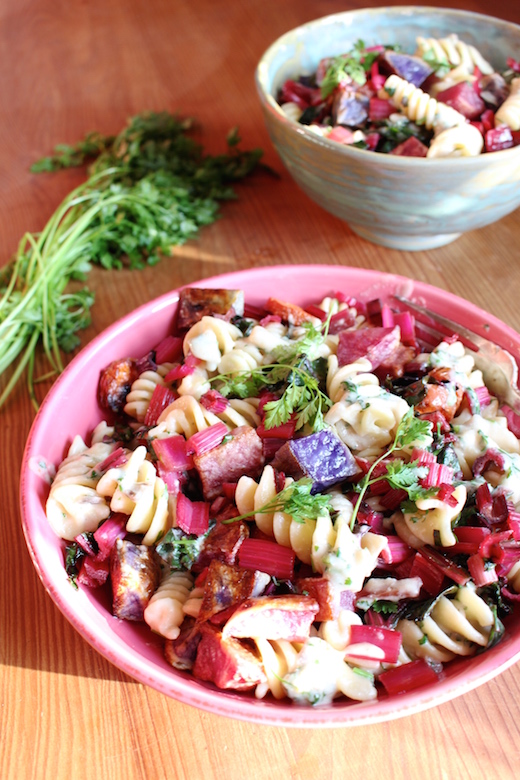 We had the most beautiful, sunny winter day, so I decided to go to my favorite market here in Hamburg: Isemarkt is massive and beautiful. You'll find almost anything there: Portuguese pastry carts, fresh pasta, organic produce, a knife sharpener, fermented foods, essential oils and so much more.
I'm always drawn to colorful vegetables so it is no wonder that these some vibrant chards caught my attention.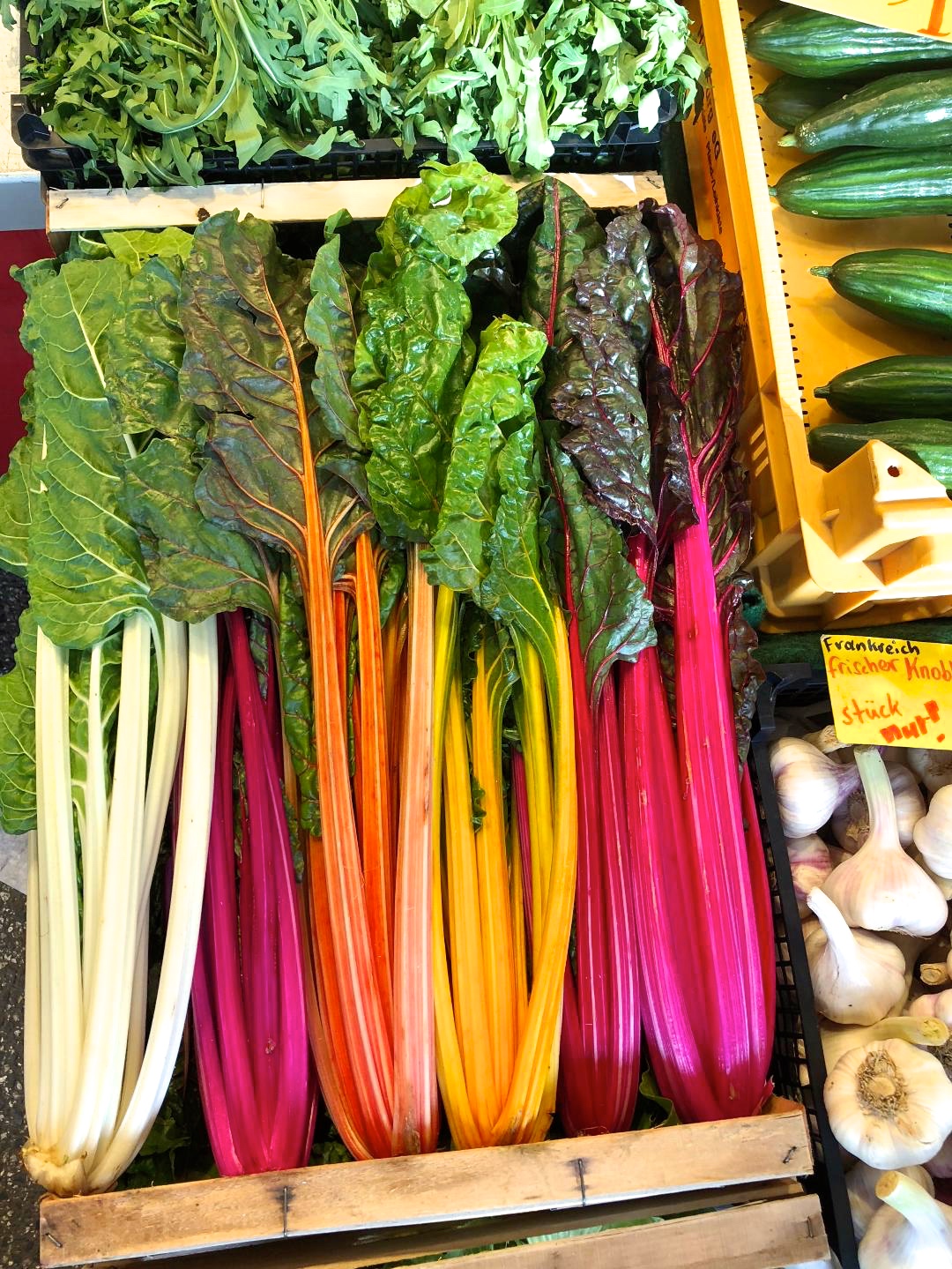 So amazing, isn't it?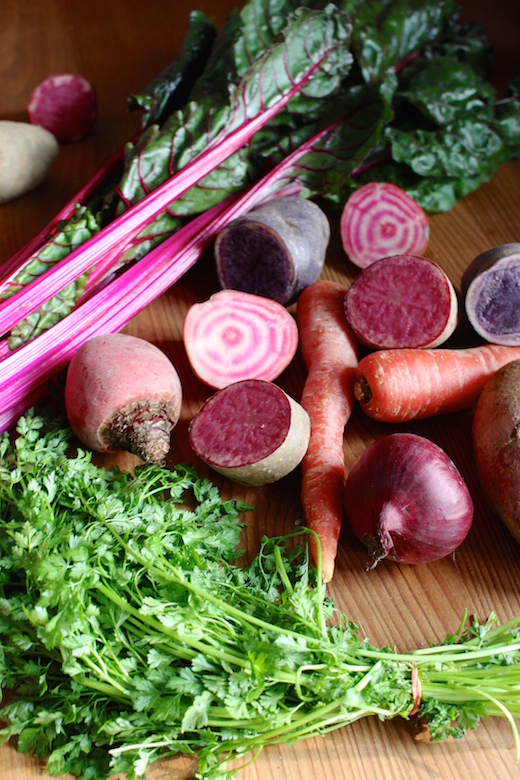 Some market stands further I found my inspiration: some purple and pink potatoes that would be perfect to make a pasta dish with all kinds of pink veggies!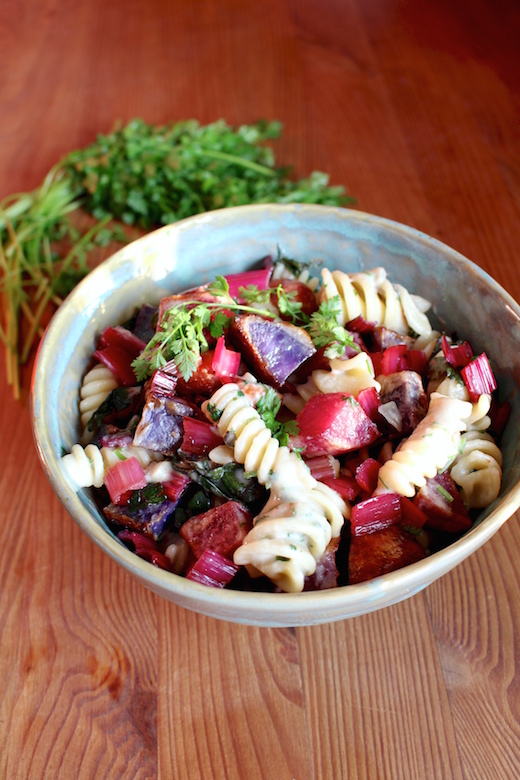 As a base I made a creamy sauce of cashewbutter. The veggies I partly grilled and sautéed in the oven and in the pan. I also added some chervil for extra flavor. It complements the flavor of the chard so well. Definitely a winner and such eye candy. Wouldn't you agree?
Vibrant Pink Chard Pasta With Chervil
(Makes two big portions)
Roasted veggies:
500g pink or purple potatoes
2 red carrots
1 tbsp olive oil
1/4 tsp salt
Sautéed chard:
1 bunch of pink chard
olive oil (to grease the pan)
pinch of salt
Creamy sauce:
1 red onion
2-3 cloves of garlic
350 ml water
2 tbsp cashewbutter
1/2 tsp salt (or to taste)
dash of chilli flakes
2 tbsp nutritional yeast
half bunch of chervil
Wash the potatoes and carrots. Peel and cut them and toss with 1 tbsp of olive oil and 1/4 tsp salt. Bake for about 20-30 min at about 200°C/ 390°F until roasted. Set aside.
Wash and cut the chard into small bites. Heat some olive oil in a pan and sauté the leafs and the stalks separately. They should still have a bit of crunch. Set aside.
Start to cook the pasta and meanwhile prepare the creamy sauce. Chop up a red onion and two cloves of garlic and cook in a pan with some olive oil. In a glass, mix together 350ml of water and two tbsp of cashewbutter with a fork. Add salt to taste and add the mixture to the pan. Bring to boil and keep stirring until it's thickening. You can either add some more water if it's too thick or more cashewbutter if it's too watery. Turn down the heat and add chilli flakes and nutritional yeast. Chop up the chervil and add to the sauce shortly before you cook the pasta.
Fold in the pasta into the creamy sauce and place on the plates. Now top all of the prepared veggies and enjoy!
MerkenMerken
MerkenMerken
MerkenMerken
MerkenMerken