Hello and Happy 2016! I hope you had a great start into the new year! My start is pretty good so far, except that I'm struggling a bit to get on the healthy eating track after the holidays.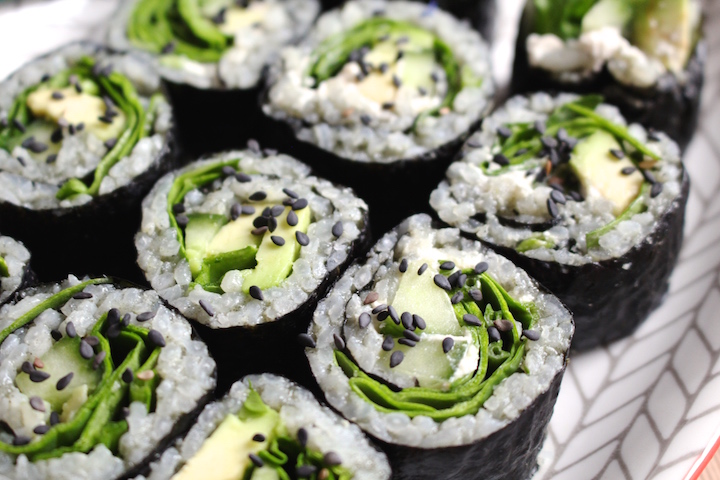 This year there was especially much eating going on around Christmas and New Year because I was back in Hamburg and met with a lot of friends and family. So it were not only the usual holiday feasts but some extra restaurant visits and pizza orders on top of all. Even though I wouldn't wanna miss it for a thing, I felt like I was ROLLING all the way down from Hamburg to Switzerland last week. I told myself to make the cut and start over the healthy way on the 1st of January, but then there was still so much candy laying around and it's just not possible for me to start a healthy path when I have candy in the view of my eye (Does anyone of you have the same problem?). So it needed to be "destroyed" first (excuses, excuses!). So much for that.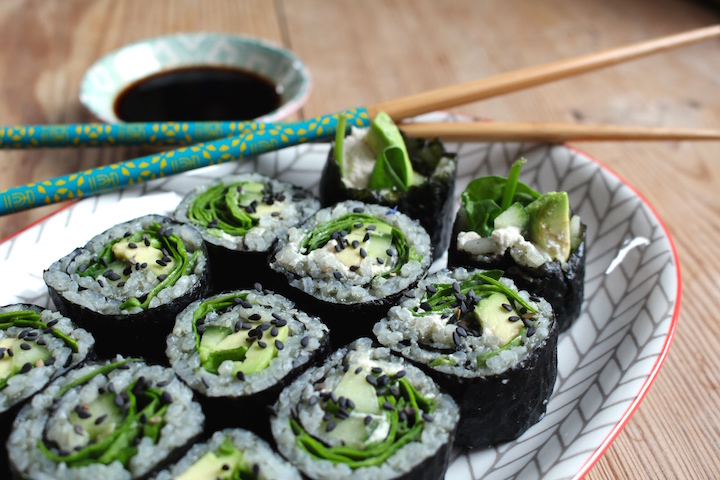 At least I have been eating lots of fresh veggies and healthy breakfast bowls. Slowly but surely I'm getting there. And good thing it's Monday tomorrow, that just calls for a fresh start!!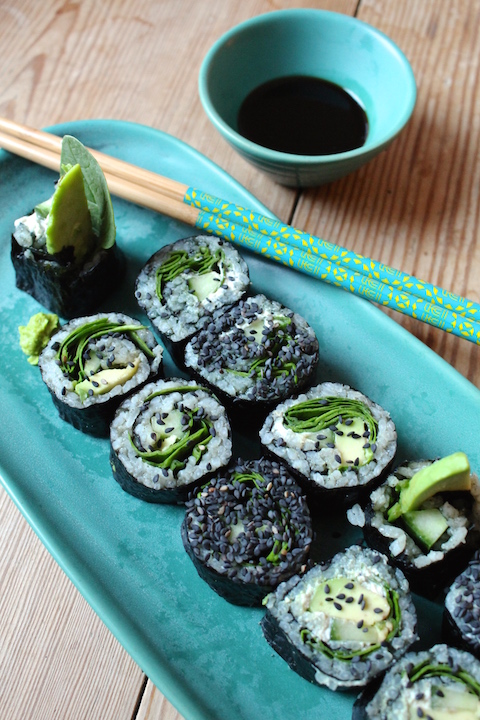 One of the dishes I made last week was Veg Sushi. It's my favorite posh comfort food and I am actually gonna start making it more often from now on and sharing new recipes on the blog. So keep looking out for them. If you like Sushi, that is. 😉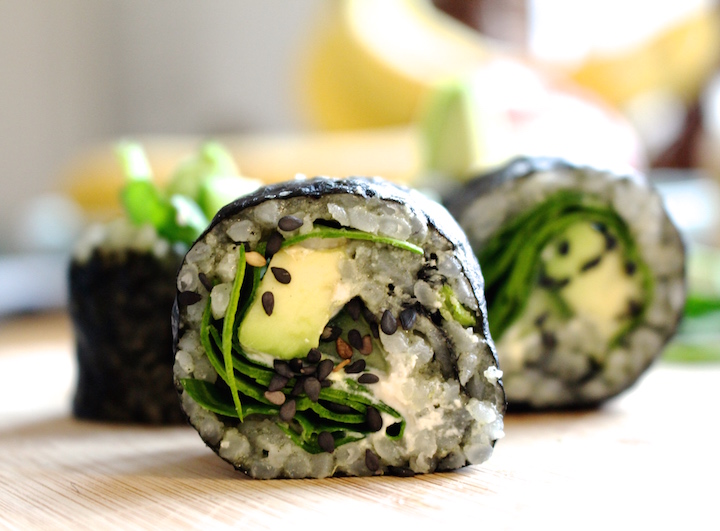 The version I made this time is so green that it needed to be called "Green Power" Sushi.
I even added spirulina (blue-green algae) to the rice, which doesn't only add color but a nice boost of B and C vitamins and other health benefits. The other green ingredients are avocado, cucumber and spinach, yumm! To make it a bit more creamy I added this delicious plant-based spread from Bio Zentrale, called Meerrettich Creme. It's a mild horseradish cream, which fits perfectly because horseradish is a plant of the same family as wasabi. If you can't get your hands on this spread, plain vegan cream cheese would also be a great addition to this sushi roll!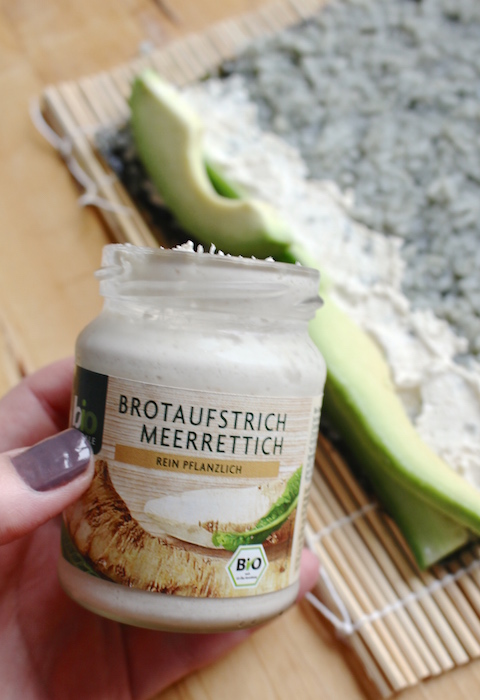 "Green Power" Sushi
(makes 5-6 rolls, ca. 30-40 pieces)
250g sushi rice
4 tbsp rice vinegar
3 tbsp sugar (you could use coconut sugar as a healthier alternative)
1 tsp salt
1-2 tsp spirulina powder
5-6 sheets of nori paper
1/2 cucumber (cut in slices, seeds removed)
1 avocado (cut in slices)
2 hands full baby spinach
mild horseradish spread (mine is from Bio Zentrale) // or vegan cream cheese
1 +1/2 tsp black sesame seeds
soy sauce for serving (optional)
wasabi for serving (optional)
pickled ginger for serving (optional)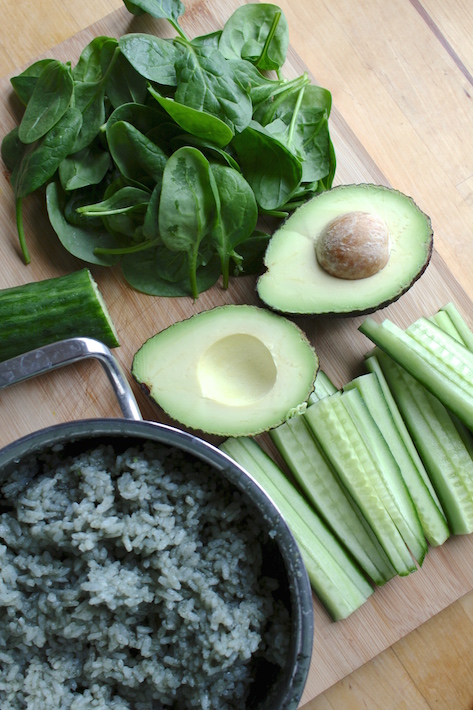 Wash the rice, then add 1/2 liter of water and let boil. Once it starts boiling put it on low heat and let the rice soak up the water (it takes about 10-15 minutes). When the rice is still warm, add the rice vinegar, sugar and salt. Let the rice cool down completely, then add spirulina.
Time to roll!
Place the nori sheet on the bamboo mat and spread a thin layer of rice on the nori. Use wet finger, so it doesn't stick and leave a 1-2 cm band at the end of the paper, so you can seal up the roll with it. Now lay some cucumber, avocado and a bit of spinach on the other end and add a stripe of mild horseradish cream or vegan cream cheese. Now roll up the sushi tightly and set the roll aside, to let the seaweed soak in the moisture (it will be easier to cut). When all rolls are finished, cut them into pieces with a sharp and wet knife. Set sushi pieces on a plate and sprinkle black sesame seeds on top. Serve with soy sauce, wasabi and pickled ginger.
MerkenMerken
MerkenMerken
MerkenMerken
Summary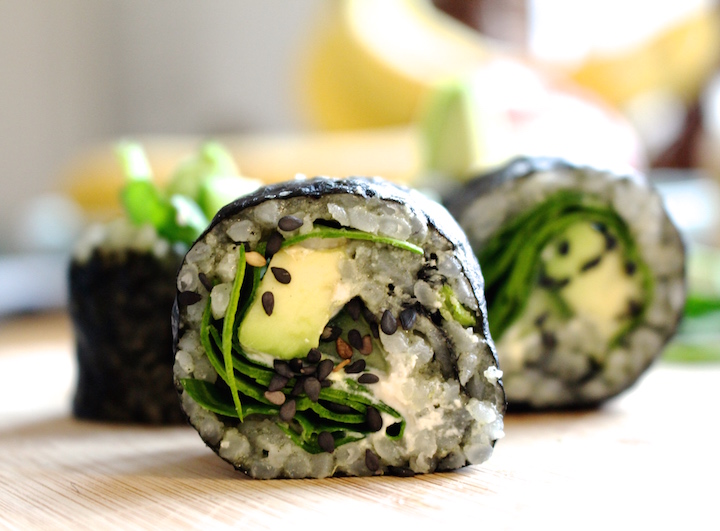 Recipe Name
Vegan Sushi "Green Power"
Author Name
Published On
Average Rating





Based on 2 Review(s)