Anybody want some granola squares, fresh from the oven? Come, come, hurry!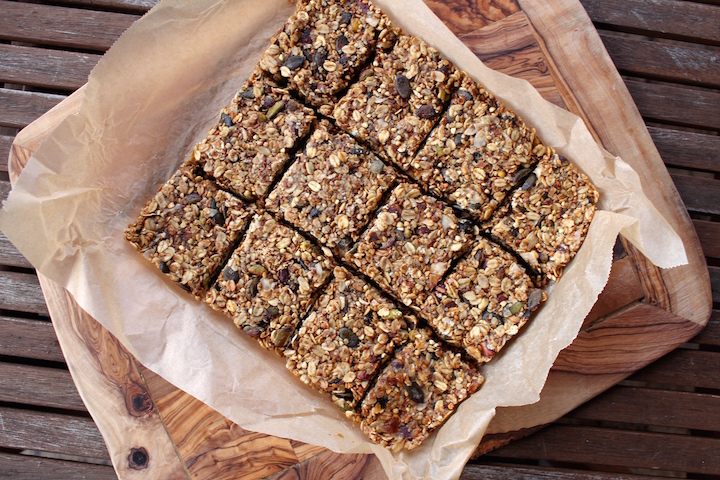 The apartment smells heavenly, sweet and nutty. Just for that alone, it's worth making them!  I just came back from a snowy forest run with Fritzi and it felt so good to walk through the door, feel warm again, cheeks burning, and then smelling this homey scent… the best! Of course it wasn't enough to just smell the granola bars, I had to snack on them too. Now approved as a post-workout-snack. Yummy! 😉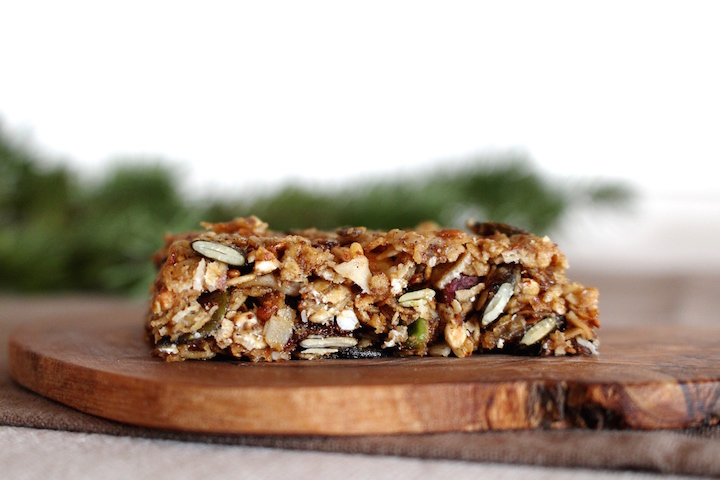 Making your own granola bars is super easy and great for free-styling and making them exactly to your personal liking. It's also much cheaper than store-bought ones. Plus, it doesn't come in plastic-wrapping! Big plus!
This time around I added loads of nuts and seeds, with an extra big load of pistachios. For fat I used coconut oil and for sweetening dates and maple syrup. This actually makes these squares quite a healthy snack too (when consumed in moderation ;-))! But be warned… they will tempt you to just keep on snacking. That is the only downside really. That's why I usually freeze half of the batch, which works great by the way!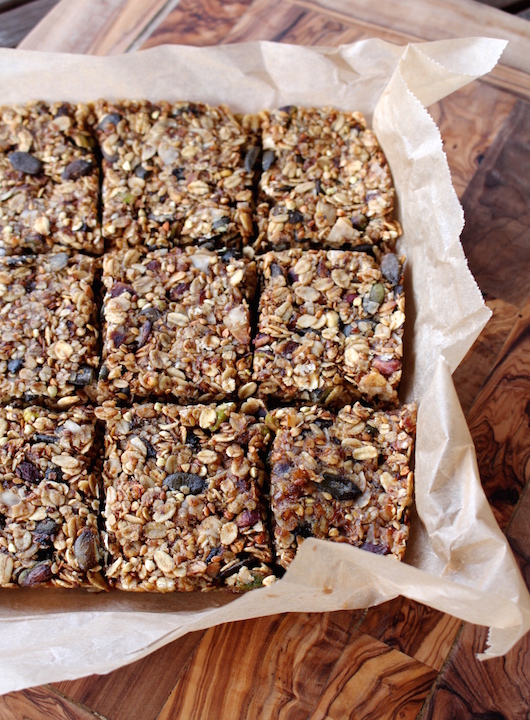 Most recipes I find, call for baking the granola bars in the oven, but I tried roasting the granola batch in a large pan and it worked out perfectly.
So this is the version I made today.
Nutty Granola Squares with Pistachio and Maple
3 cups of mixed oats (rolled and instant)
1/2 cup slivered almonds
1/2 cup pumpkin seeds
1 cup pistachios
1/4 cups buckwheat groats
1/4 cup golden linseeds
3-4 tbsp coconut oil
1/2 tsp salt
1 tsp ground vanilla
11 dates
1/2 cup raisins
2-3 tbsp hazelnut butter (or other nut butter at hand)
1 cup water
1/2 cup maple syrup
Ideally, soak dates in water for about an hour (or longer if possible).
Heat up oats, nuts and seeds (except buckwheat groats)  in a large pan over medium to high heat. Roast for about 10 minutes stirring frequently and watching out for it not to burn. Now add coconut oil and buckwheat groats and continue roasting and stirring until it starts browning (about 15 more minutes). Meanwhile, blend dates and raisins with water in a blender. Once the granola mixture starts to brown add the date-rasin mix, hazelnut butter, vanilla and salt and combine well. Once it has a golden brown color and smells heavenly add maple syrup and mix well. It will caramelize, making everything a bit more sticky.
Line a square baking dish with parchment paper and fill with the granola mixture. Now press it down firmly, until even, and let cool down completely. Once it's cooled, cut into squares while still in the tin. Store airtight in fridge or freezer.
MerkenMerken
MerkenMerken