There is something about warm porridge that is so satisfying. Something I connect with home, coziness and comfort. And it's so hard to mess up porridge. You can basically add as much or little of anything and it always turns out tasty. Sometimes I like when it's almost sticky and gooey, but lately I have been adding quite a lot of liquid and let it simmer for a while so that it turns out really creamy.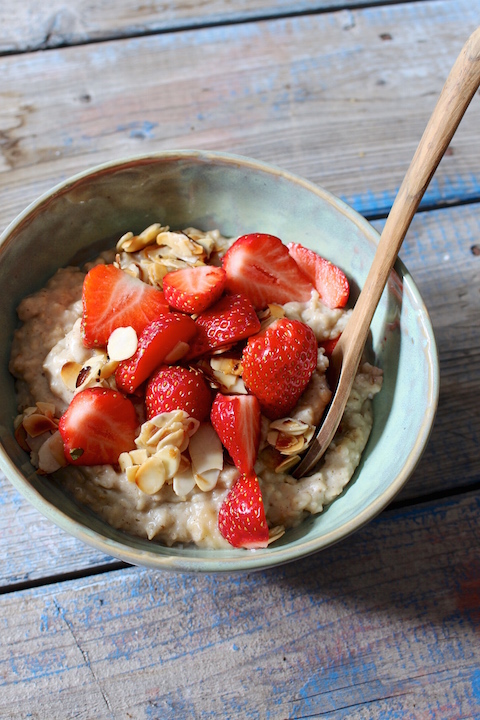 The other day my girl-buddy Melli slept over and in the morning I made a porridge that apparently ticked all of her boxes. She loved it so much that I decided to recreate it, so that I can write down the recipe for her. So here you go Melli, this one is for you and all you porridge lovers out there. 😉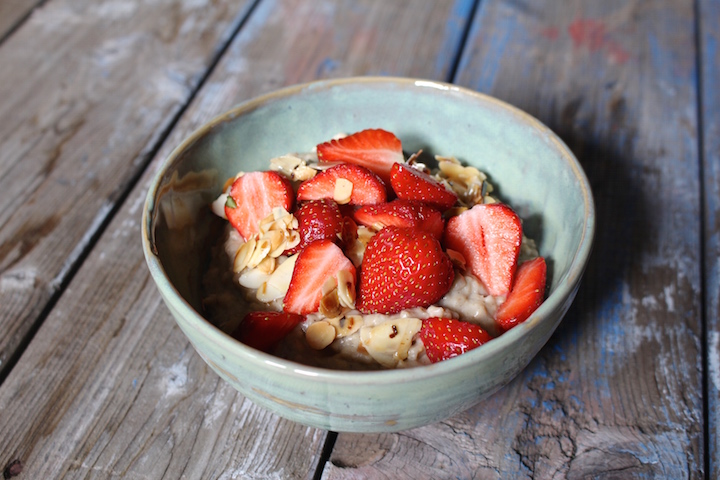 Creamy Strawberry Porridge à la Melli
(makes 2 potions)
3/4 cups instant oats (zarte Haferflocken)
1 + 1/2 cups plant milk (I used spelt milk)
1 ripe banana (cut in pieces)
1/2 tsp grated vanilla
pinch of salt
1 tbsp cashew butter
1/2 to 1 tbsp maple syrup
4 tbsp sliced almonds
handful of ripe strawberries
Fill milk and oats in a medium sized pot and bring to boil. Once the milk is boiling, bring to low heat and let simmer while stirring occasionally so that it doesn't get burned. Add banana, vanilla, cashew butter and salt and let simmer until you get a really creamy texture. The longer you let it simmer, the creamier it'll get. You might have to add a bit more milk. Fill porridge into a bowl and add strawberries.
Roast sliced almonds in a small pan. Once they are golden, add maple syrup and let caramelize for a few seconds and then top your porridge with it.
MerkenMerken
MerkenMerken