I've been seeing a lot of food boxes on my social media platforms lately. You know, those kind of surprise boxes you can order, even as a subscription, to try new products. What a fun idea, right? The only thing that kept me from ordering was that I didn't want to accidentally order something that contains animal products or too much plastic packaging.
Then I luckily heard about the Whole Food Box and couldn't wait to try and share it with you!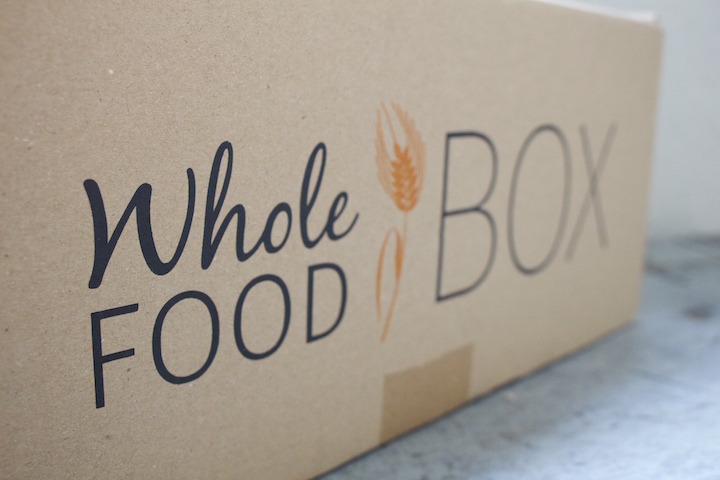 The Whole Food Box ships a mix of various whole foods to your doorstep and it amazingly only contains products that are free of:
animal products
refined sugars
added oils
white flour
artificial additives
You can choose from different kind of boxes and the one that got me excited was their plastic free version. A box full of zero waste goodness!
When it arrived I felt excited like it was my birthday. I loooove trying new foods and am always on the lookout for plastic free packaging. So I quickly opened the nicely wrapped box and had a look at all the lovely products. Here is a sneak peak: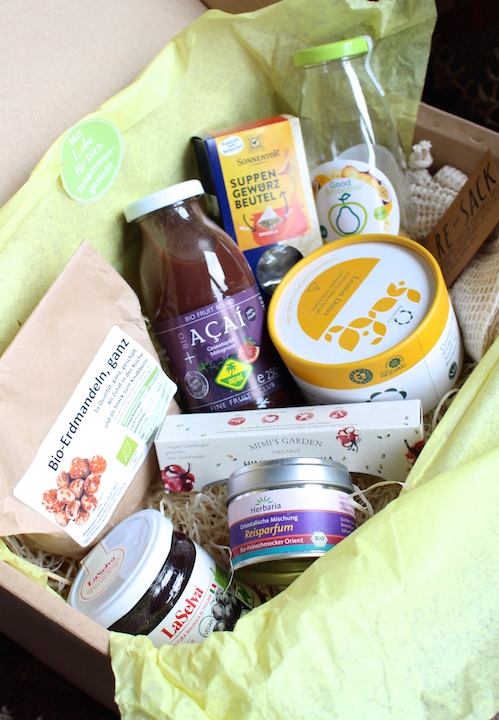 It contained two different drinks from "Good Smoothie" and "Fine Fruits Club", pure grape concentrate from "LaSelva", soup spice (as tea bags – what a cool idea!) from "Sonnentor", rice spice mix from "Herbaria", reusable produce bags from "Re-Sack" (goodbye plastic bags!), tigernuts from "Stübener Kräutergarten", detox tea from "Solaris" and superfood energy balls from "Mimi's Garden".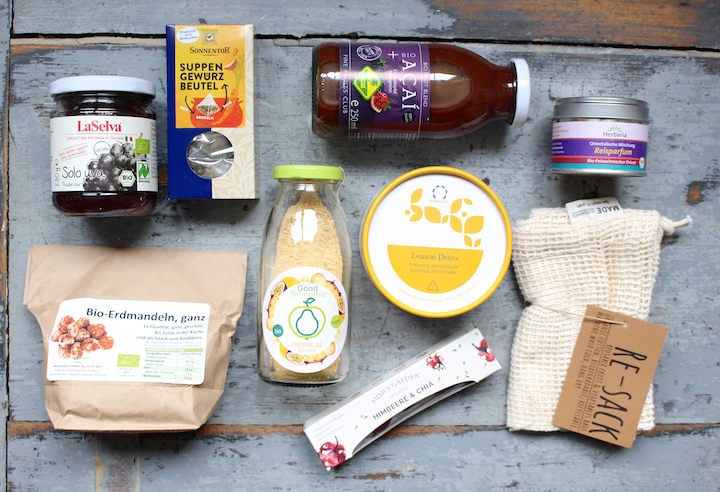 The box also contains an info paper that gives a little introduction to every product and its packaging. Some of the packaging actually looks like plastic but it turns out that it is compostable wrapping. Awesome!
Over the last few weeks I had a chance to try all of the foods and besides that I liked all of it, I also had a few favorites.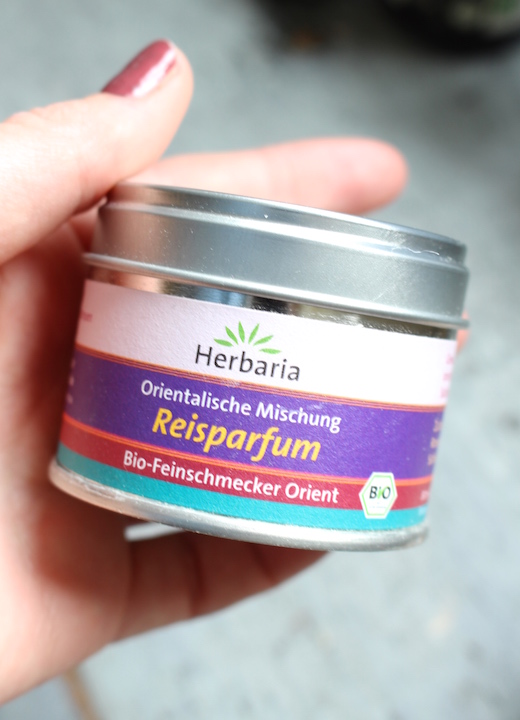 I really liked the rice spice mix with sesame salt, safran and rose paddles. It's great for pimping your rice, quinoa etc. – just sprinkle it on everything! It tastes lovely and looks pretty too.
Lately I'm a big fan of detox teas, so I enjoyed trying this new flavor of Solaris, with lemongrass, fennel and nettle. The tea bags are made of 100% cornstarch, so you can throw it on your compost. Perfect!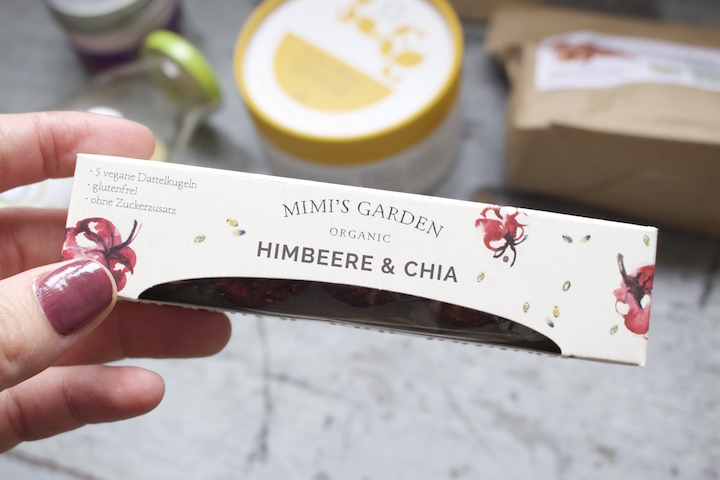 Another highlight were the raspberry chia date balls. They taste sweet and a bit tangy and made a great healthy snack… I'm a sweet tooth kinda girl, so these were awesome!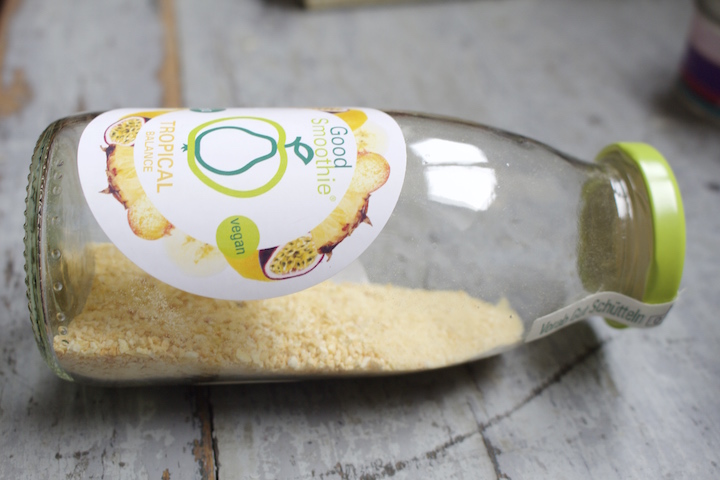 Looking at the "Good Smoothie" bottle first had me thinking that it's empty, but that is only because you have to mix the smoothie yourself. It only comes with a powder made of pineapple, passion fruit, mango, banana and peach. Sounds delicious! It's the only thing I didn't try yet because I want to keep it for my next trip. I can only imagine how awesome this will be as a carry-on-healthy-drink, since it is light and you can take it easily through the customs.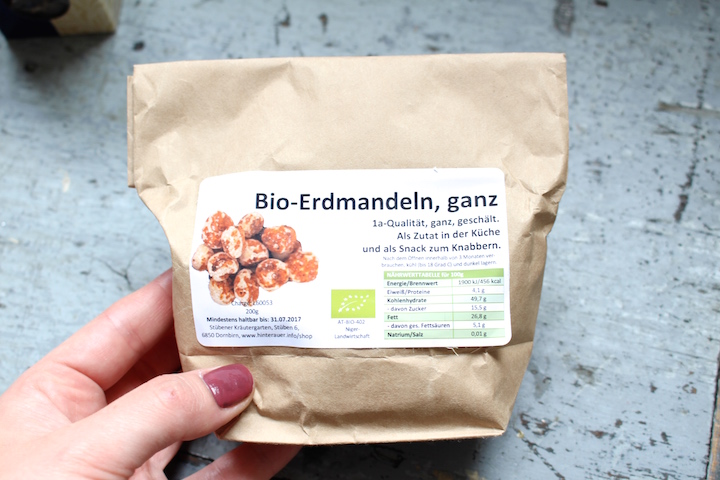 Have you ever eaten tigernuts? I never had them before but know that they are supposed to be super healthy. I still wonder though how I could use them in a meal. They make a nice snack but I'm sure there are even more exciting ways to use them. So please let me know if you have any recipes! 🙂
I really enjoyed the Whole Food Box. The products were well chosen and I loved the fact that you don't know what you'll receive beforehand, because I love me some surprises! Come to think of it, this would also make a great gift to a foodie friend!
If you want to learn more about the Whole Food Box, you can visit their page at www.wholefoodbox.de
MerkenMerken
MerkenMerken
Summary
Reviewer
Review Date
Reviewed Item
Whole Food Box (plastikfrei)
Author Rating