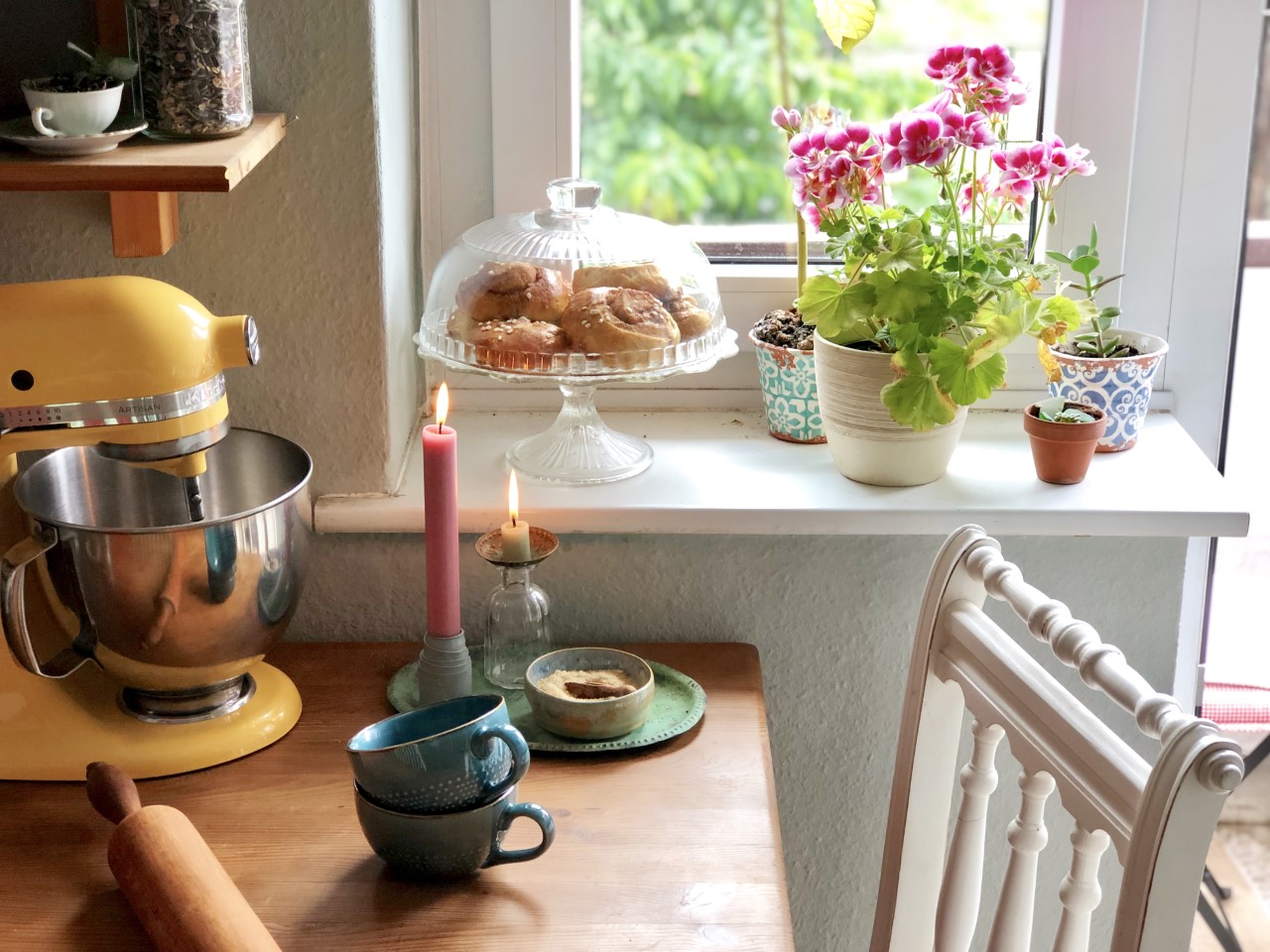 Maybe I should have posted this recipe before the holidays, while it was still "OK" to indulge on sticky, sugary baking goods. So I'm sorry if looking at these pictures is tough for those of you, who just committed to eating healthier in the new year. But trust me, these delicious cinnamon buns are worth making an exception for. And if anyone asks, just blame me! 
To me, Kanelbullar are a piece of childhood. On our many vacations in Sweden as a child and teenager I must have eaten countless of these traditional swedish cinnamon buns. Eating them now, reminds me of  wonderful times.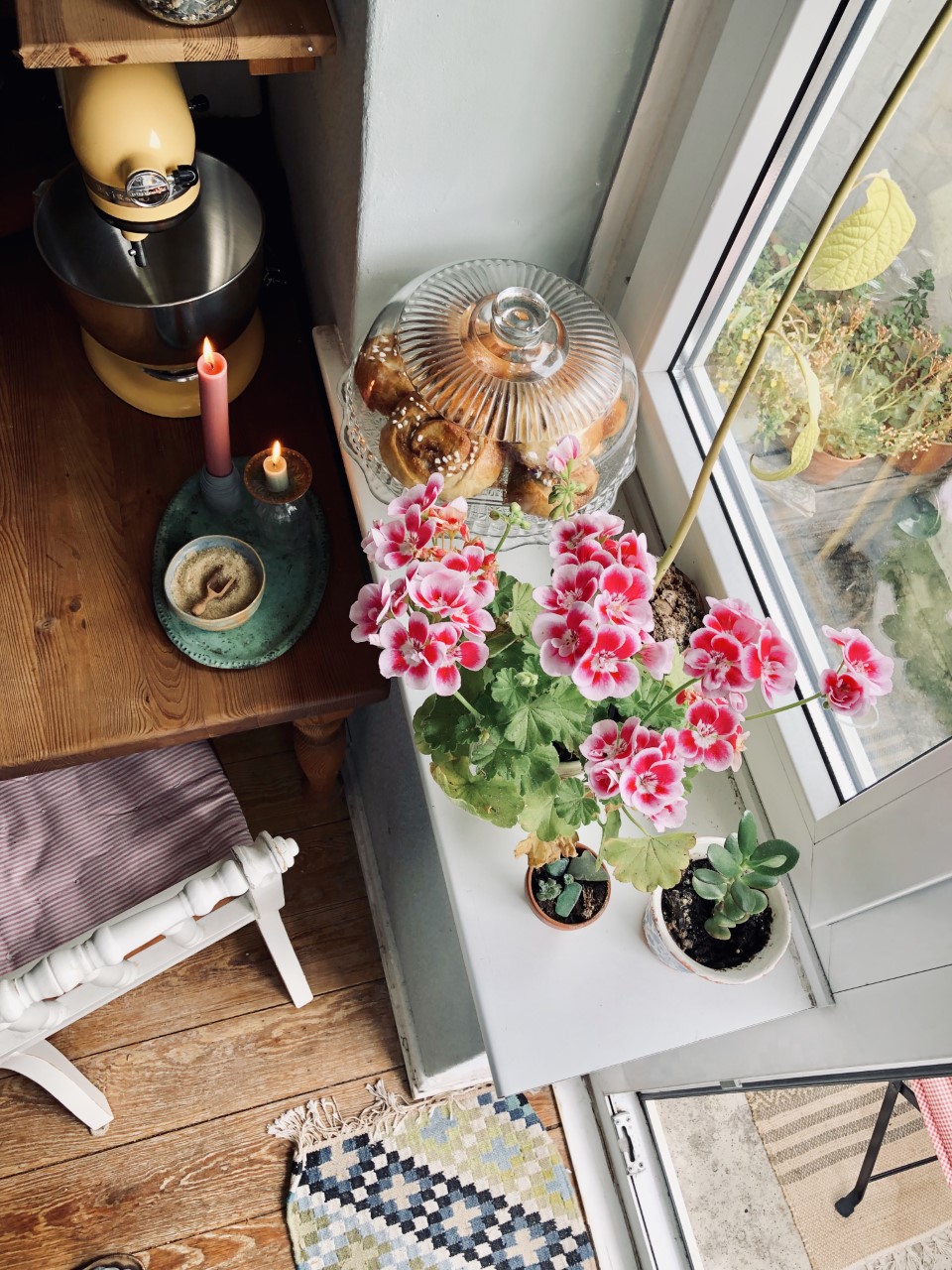 These vacations will always have a special place in my heart. Often we just drove around in a caravan and stayed on campgrounds or B&Bs. I remember adventures in the mossy woods, swimming in clean lakes, strolling through cozy villages and stopping by small coffee shops on the side of winding forest roads. In one of these coffee shops the Kanelbullar were so delicious that my mother asked for the recipe, which the sweet owner then happily wrote down for her. This is a picture of the place:
And a picture from when my mom was baking them:
For todays recipe, I adapted the recipe from the swedish Coffee Shop, making it completely vegan. And I have to say, it is amazing! The bun is super soft and the extra portion of the cinnamon sugar mixture makes these irresistible. I hope you'll try them!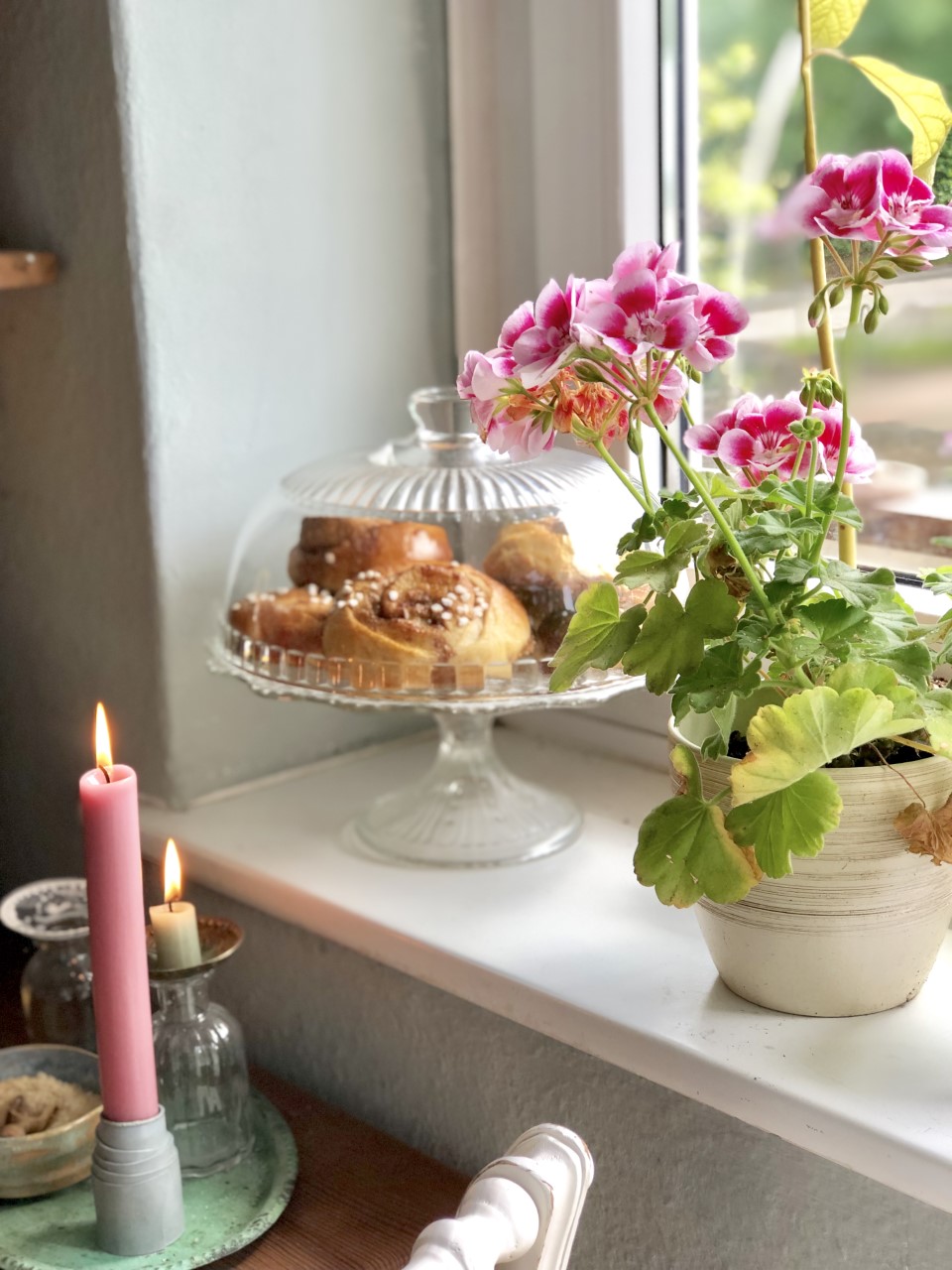 The recipe makes 25-35 cinnamon buns, depending on how big you want to make them. When I made the batch yesterday I thought I'd have way too many but since they are perfect for give away, you'll never end up with left overs… instead bring a smile to your friends, colleagues and neighbors!
"Kanelbullar" Swedish Cinnamon Buns (Vegan)
Makes 25-35 cinnamon buns.
Ingredients for the buns:
150 plant-based margarine
450 ml plant-based milk
one cube fresh yeast (42-50g)
70g  raw cane sugar (or simple white sugar)
2  1/2 tsp salt
2 tsp ground cardamom
700-750g flour
Ingredients for the filling:
130g plant-based margarine
190g raw cane sugar (or simple white sugar)
4 tsp ground cinnamon
1 tsp ground cardamom
Ingredients for the topping:
1 tbsp neutral oil (like sunflower oil
2 tbsp plant-based milk
1tsp maple sirup
pearl sugar
In a medium sized bowl, mix yeast with 70g sugar and let sit for few minutes for the yeast to start reacting. Meanwhile, melt 150g margarine and then add milk. Add the warm (not hot!) fat and milk mixture to the yeast and let sit for a while.
Meanwhile, in a large bowl, mix dry ingredients (700g flour, salt, cardamom). When yeast is completely dissolved in the liquids, add the mixture to the dry ingredients. Knead the dough for several minutes until smooth and supple. You might need to add a little flour, if it is still too sticky.  It should not stick to your hands. Let dough sit for at least 40 minutes until it doubled in size.
Divide in two halves, knead some more and roll out in the shape of a rectangular on a floured surface. Mix ingredients for the filling with a hand mixer until fluffy and spread half of the mixture on the dough. Roll up the dough to a long sausage and cut in ca. 4cm thick slices. Do the same with the other half.
Preheat oven to 250 °C / 480 °F
Place cinnamon buns on a baking paper lined baking tray and flatten slightly. Mix 1 tbsp neutral oil and 2 tbsp plant-based milk in a small bowl and brush over the buns. Sprinkle with pearl sugar and bake for 8-10 minutes.
MerkenMerken
MerkenMerken
MerkenMerken
MerkenMerken