Have you ever met a person that doesn't like pizza? It's hard to imagine for me, but those people do exist. Like my grandpa, he had never eaten a pizza in his entire life, until that day when he was 96 and we convinced him to try it at least. The concept of melting cheese and all… it was too strange to him and he just shook his head and smiled. Nope, he didn't like it. What?!
Anyhow, todays post is about a darn good pizza.  As I am writing this up I'm already looking forward to hit the publish button. Just look at it.
It is inspired by this little pizza place of a town called Cumberland, on Vancouver Island. The interior is all about bicycles and they serve pizza on old BMX bike wheels. How cool is that? Their pizzas have the most amazing flavor combinations, just things you wouldn't typically see on a menu. Like for example pesto + artichokes + garlic + pineapple. Yumm! Seeing and tasting all this creativity really made me wanna go home and cook up my own version of flavorful pizza.
One of their pizzas had a puree of butternut squash as the foundation instead of tomato sauce. This pumpkin base tasted so lovely that I needed to recreate it – especially since it's October and I love the idea of making an autumn themed pizza. This is THE season for veggies! So as I already had the pumpkin, I also wanted to add carrots, zucchini, eggplant, kale, sweet potato, cherry tomatoes, sun dried tomatoes, mushrooms, hazelnuts, walnuts and of course garlic – basically aaall of the things that I love in this season. Now that I think of it, corn would have also been a nice addition. Taking a note for next time!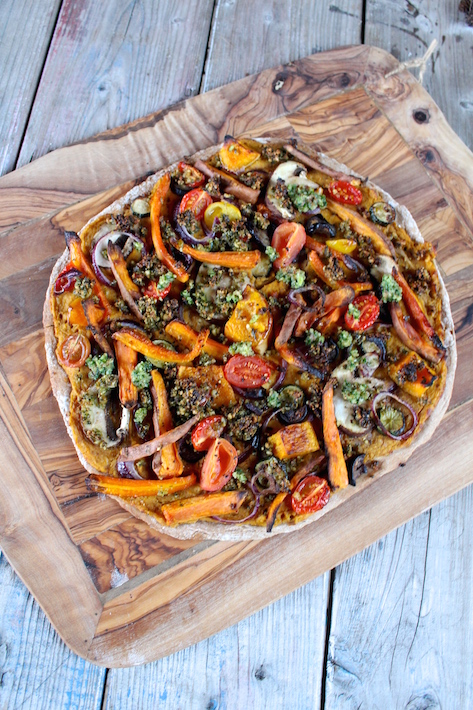 Instead of white flour, I used whole wheat flour for the dough, which is making this pizza even more healthy than it already is. No cheese, no sugar, no refined flour, just wholesome pure ingredients. And did I mention that it tastes amazing? Doing a little happy dance right now!
Since this one has so many different ingredients/textures, it does take a little more time to make than the ordinary pizza, but I would suggest to make the pizza in different steps. Next time I would for example make the pesto the day before and the pizza dough in the morning. Other than that, this pizza is super easy to make and would also make a great dish for when you have your friendly folks over.
Autumn Harvest Pizza (Vegan)
(makes 2 medium sized pizzas)
This pizza consists of a whole wheat dough, a butternut squash puree as a base and oven roasted vegetables and a kale pesto as toppings. To make the preparation process easier, I would suggest to break down the steps, like preparing the pesto a day ahead and the dough in the morning.
Preparing the pesto:
50g hazelnuts
50g kale
1/3 cup olive oil
1/4 tsp salt
1 clove of garlic (about 3 g)
2 tbsp nutritional yeast
4 sun-dried tomatoes in oil
Roast hazelnuts in a pan. If possible, take of the skins, which are a bit bitter. You can peel them more easily by placing the roasted nuts in a little jar and shake them. This way the skins come of by themselves. Now place all ingredients in an electric chopper and blend.
Preparing the dough:
Note: This basic pizza dough recipe is for 4 pizzas. The rest of the pizza recipe is for only 2 pizzas, but I like to make bigger batches of dough to freeze the rest and have less work the next time. 😉
one cube of fresh yeast (42g)
1 tbsp maple syrup
1 + 1/2 tsp salt
350ml warm water
1 tbsp olive oil
530g wholemeal spelled flour (german: Dinkel Vollkornmehl)
Mix together yeast and maple syrup in a big bowl until yeast is dissolved. Mix in salt, warm water and olive oil and finally the flour in small portions. Now knead the dough for a while until it comes together nicely and doesn't stick to the hands anymore. Add some more flour if necessary. Now cover the bowl with a dish towel and let the dough rise in a warm place for min. 90 minutes. It should double in size. You can also place the dough in the fridge over night. When ready, knead the dough some more and divide into 4 portions. (As mentioned above, you'll only need two portions for this recipe, so you can freeze the other two portions for next time). Set on a flour covered surface and let rise for another 30 min.
Preparing the rest of the toppings:
Butternut Squash Walnut Puree
 a medium sized butternut squash (ca. 650g)
1 big clove of garlic (ca. 6g)
30g walnuts
1/4 – 1/2 tsp salt (to taste)
Roasted Vegetables
150g carrots
100g Zucchini
100g eggplant
150g sweet potato
Other toppings
2 champignon mushrooms (sliced)
1 small red onions (sliced in rings)
handful of colorful cherry tomatoes (sliced)
Core the butternut squash and cut it in small cubes (leaving the skin on). Drizzle with some olive oil and place cubes on one side of a lined baking tray. Sprinkle with a bit of salt.
Now cut and slice the carrots, zucchini, eggplant and sweet potato. Drizzle with some olive oil and place on the other half of the baking tray. Sprinkle with salt.
Bake all the veggies for about 20 minutes at 200°C/ 390°F until roasted but not too dark.
Take most of the butternut squash cubes from the tray, leaving just a hand full of them with the rest of the veggies for the topping later. Blend the butternut together with garlic, walnuts and about 1/2 cup of water until creamy.
Assembling the pizza
Role out the dough on a floured surface and move to a lined baking tray. Spread the butternut squash puree on the dough. Add onion rings, cherry tomato halves, mushroom slices and roasted vegetables. As to the pesto, I added it before baking and it turned out fine, but I would actually recommend to add it after baking, since it easily burns in the oven. I will add pictures of the pizza with unbaked pesto, once I make this pizza again. 😉
Bake at 220 °C/ 420 °F for about 20-30 minutes. Enjoy!
MerkenMerken
MerkenMerken