It's a gloomy autumn Sunday. When I peaked through the curtains this morning, the skies were grey and leafs were swirling through the air. Instead of cars, you could only hear the rain pattering against the window and the quiet hum of the radiator. Days like this have a special atmosphere that I actually really like. Those kind of days are perfect for cuddling up on the couch with a blanket, hot drink, a good Tv Series and some comfort food. So that's exactly what I did this morning. Couch, Chai Tea, Fargo and a warm porridge. Good times!
The porridge I made was pretty much fitting this season as well. I added apples, raisins, a whole lot of cinnamon & cardamom, maple syrup and caramelized nuts. And on top of that, because I'm feeling wild today, I had to add a spoon of peanut butter. It just tastes SO good!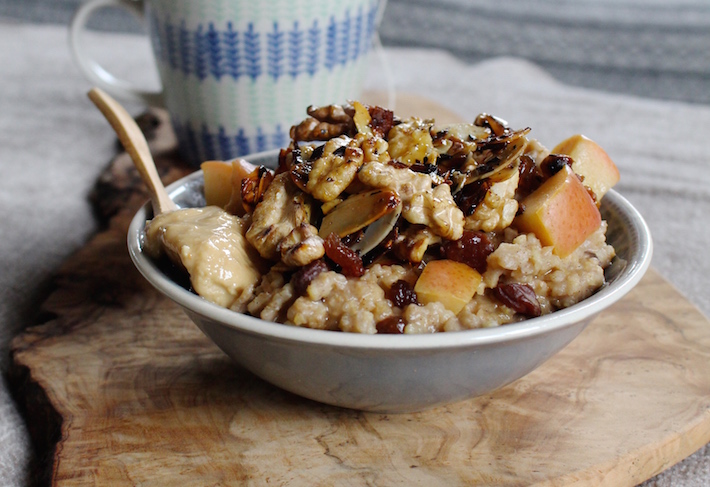 By the way, if you're also a fan of this whole apple-cinnamon-maple-nuts-combination, you should check out this divine pie recipe. This porridge reminded me of it and of the fact that I should be making it veeery soon. Yumm!
I hope you're all enjoying the weekend! Sending you a whole lot of love ♥
Warm Apple Porridge with Caramelized Nuts
(makes 2 portions)
1/4 cup of millet
2 cups of plant-based milk (I used almond milk)
1/2 oats
1 tsp cinnamon spice
1/2 tsp ground cardamom spice
1 apple (cored and cut in small pieces)
2 tbsp raisins
dash of salt
1 + 1/2 tbsp maple syrup
Topping
1/2 cup walnuts
1/4 cup sliced almonds
1 tsp maple syrup
Bring almond milk and millet to boil in a medium sized pot. Turn down the heat and let simmer for about 15-20 minutes, adding the rest of the ingredients about half way through. Stir occasionally so that it doesn't burn, maybe adding a little of almond milk if necessary. Meanwhile heat up the nuts in a small pan until slightly roasted. Mix in 1 tsp of maple syrup and take the pan away from the heat. Once the millet is soft and the liquid is absorbed, it's ready to serve. Sprinkle with caramelized nuts and enjoy!
MerkenMerken
MerkenMerken
MerkenMerken