It's late October and while the days passed these few weeks, I kept thinking to myself  "Boy, do I love this month!". To me, October is the epitome of cozy.  It already has a bit of  winter's cold but is still buzzing with so much life, sunlight and warm colors. It makes me want to take long walks in the forest but also look forward to come home and cuddle up on the couch. So, here is a list of things that I particularly love about October:
1. Enjoying the beauty of nature
It's incredible how colorful nature has been around here this month. The hills are covered with glowing tree tops that look especially wonderful when the evening sunlight shines a warm light on them – it almost feels like being in an old photograph! I just love being outside and going for walks at this time of the year.
2. The smell of Autumn
October is a great month to be in nature, not only for the amazing colors but also for all those musky scents that fill the air. It's the smell of moist soil, mushrooms, moss, decomposing plants, cut wood and smoke. Wonderful!
3. Getting Comfy
As much as I love being outside in October, I love being at home (especially on those rainy, stormy October days). After the heat of the summer it's time again to pull out the blankets and quilts, wear your favorite comfy pants, make tea and read a book or watch your favorite series. I love to simply enjoy the feeling of being warm and snug in my little sanctuary and listen to the pattering sound of raindrops on the window.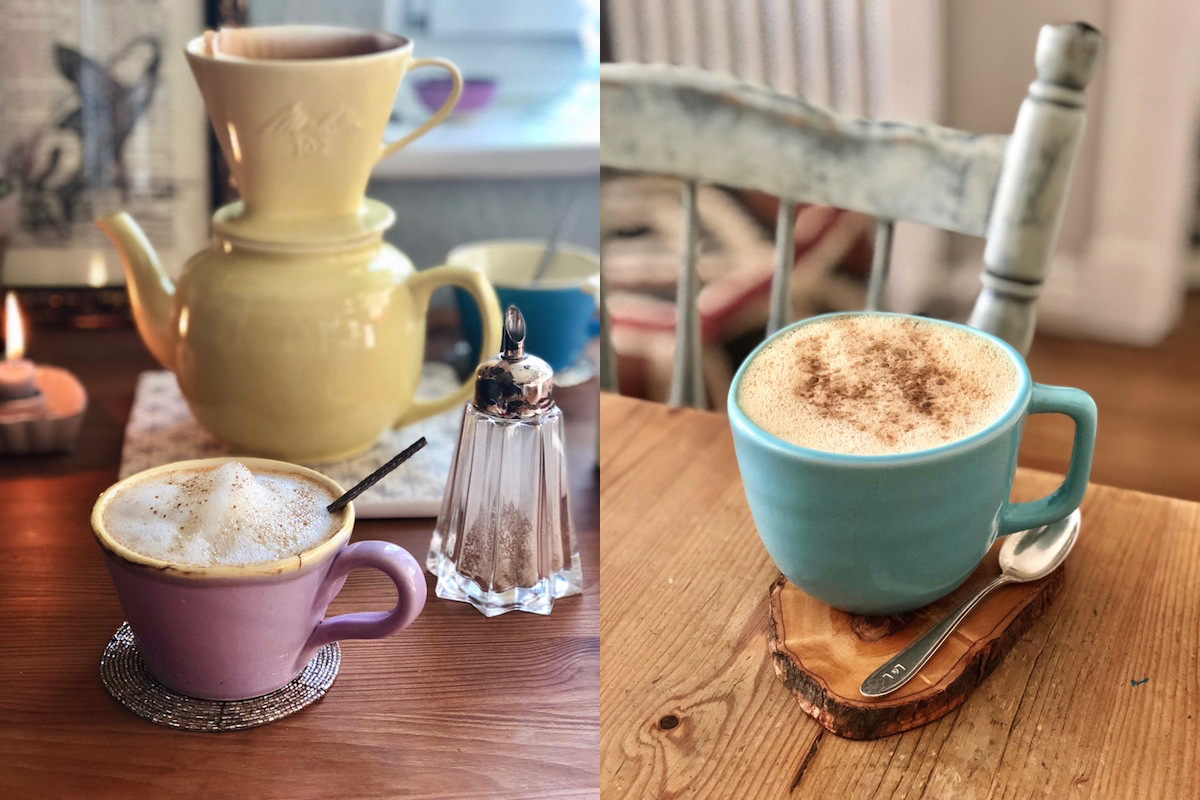 4. Hot Drinks
Talking about getting comfy… in October I want to have a mug with a hot drink in my hands constantly. Just thinking about it makes me feel warm and fuzzy. And there are so many options! In October I'm drawn to anything with chai, pumpkin spice, chocolate, orange, cinnamon, cardamom or ginger. I recently also tried Golden Milk for the first time (it's with ginger and curcuma) and loved it!
5. Cozy lights
The days are getting shorter so it's time to turn on the light inside. I'm a big fan of lighting in general. With the right lighting you can create such cozy atmospheres in your home.  That's why I love putting on candles and lamps with dim light and pretty patterns. Not to forget the fireplace, if you're lucky to have one or know someone that will share their spot! I love sitting in front of a fire, feel the warmth and watch the flames. It's almost meditative!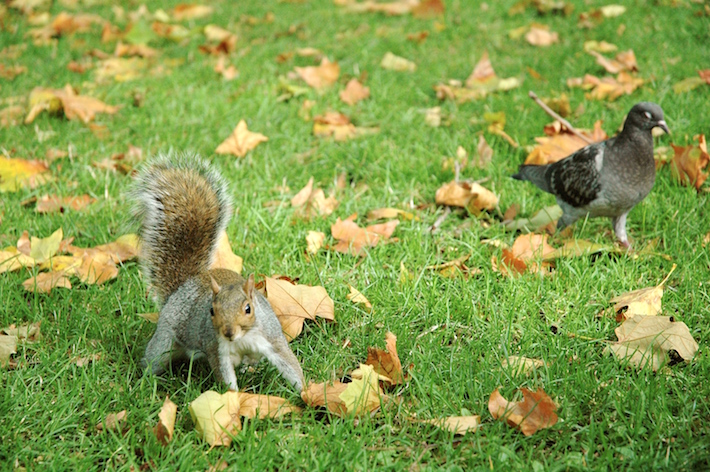 6. Watching and Helping Hedgehogs & Friends
Comes October, we're not the only ones who like to get comfy. Hedgehogs, squirrels, birds & Co are also looking for a warm shelter and food. In these times you see those cuties around quite frequently and it's always fun to watch them. When living in an urban environment, they might have a hard time finding food and shelter, so it's a good idea to give them a little hand. There are many small things one can do to help. Like piling up leafs, rocks or wood, making a small hole in the fence for hedgehogs to travel more easily, putting out flat bowls with water, filling feeders with nuts and seeds and hanging them on a tree or your balcony, installing an insect hotel or birdhouses… and a lot more. To me, the best part is watching the animals use those small spaces you created, which is why I like putting them in a spot that I can watch from the window.
7. Hello, Pumpkin!
You knew this one was coming, didn't you? 😉 Of course pumpkin has to be one of the best things of October (it actually deserve its own "things I love about"-list). They have something magical about them and come in so many different colors, sizes, shapes and flavors. And oh, do they taste good… in soups, baked, mashed or as pie. Pumpkin is always a winner! Here in Switzerland they have these little pumpkin huts at the side of the road. You just grab whatever you like and leave the cash in a little box. I think it's so cute! Above you can see a picture of our local Pumpkin Hut.
8. Apple Picking + Eating
When I was a child, we had a garden with lots of apple trees. And I remember that in autumn, we would sometimes pick apples early in the morning before school and take them to feed the deer in a near by forest. It's one of those nice childhood memories that I often think of. Even now as a grown up, I still love apple picking and even more so the cooking and eating part that comes after! 😉 Thinking of apple pie, apple compote, apple chutney, apple rings, apple jelly, apple porridge, filled baked apple… Oh, it all tastes so delicious! If you have a favorite apple recipe, feel free to share it in the comments. I love trying new apple recipes!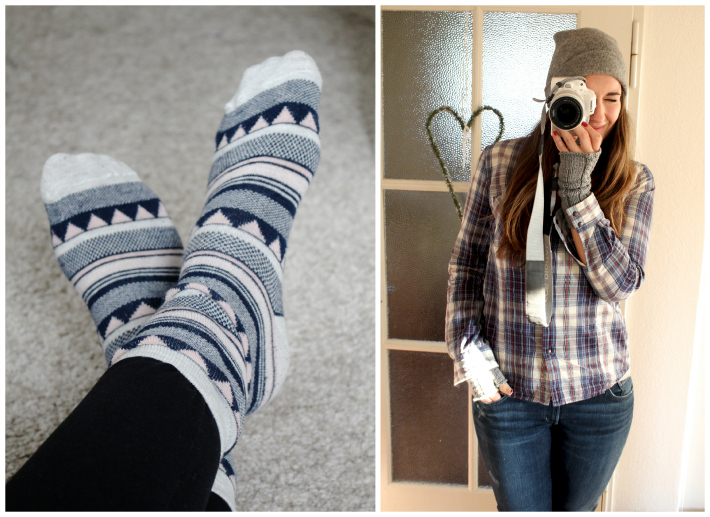 9. Autumn Fashion
Autumn fashion is my favorite kind of all! It's the time of the year when you can wear layers and warmer clothes, but don't have to hide it all under a big winter coat yet.  I love wearing skirts with tights, boots, checkered patterns, braided pullovers, warm colors, hoodies, folklore patterns, hats, fingerless gloves, scarfs… Not to forget the socks! Knee socks, warm socks, patterned socks, colorful socks… it's sock season, baby!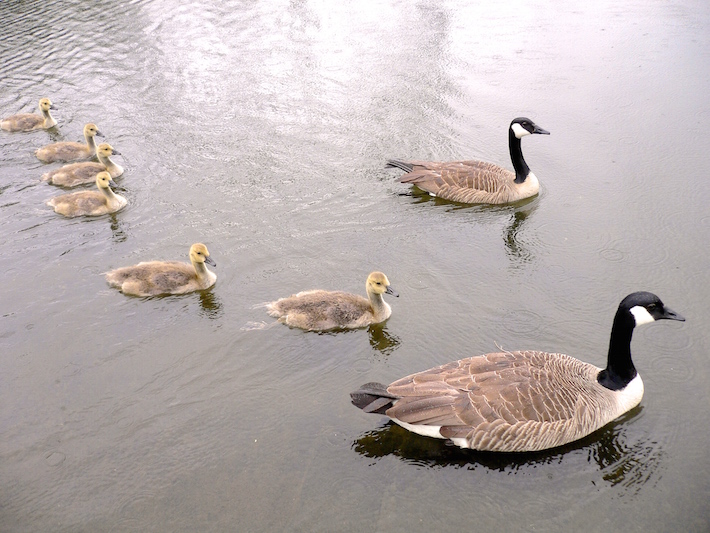 10. Bird Migration
Living in this part of Europe you can observe lots of birds that migrate to the South in October. I love when I suddenly hear the sound of wild goose in the distance and spot them in the sky. Isn't it so cool, how they fly in this V-shaped formations? Thinking of the great distances that they take on, I always feel like wishing them a good trip and can't help but already look forward for them to revisit and bring life back to nature in spring! PS: I don't have a pic of them flying but I try to make up for it with a cute baby geese picture 😉
11. Autumn Harvest Cooking
Going to the farmers market in October feels like being a kid in a candy store to me. It's my favorite season of vegetables. I already mentioned pumpkin but there is so much more… kale, potatoes, brussels sprouts, chard, carrots, corn, zucchini, eggplants, chestnuts, hazelnuts, mushrooms, you name it! With those seasonal veg you can create the most wonderful dishes, like chestnut soup, cornbread, kale salad, brussels sprouts with cranberries, mashed potato with garlic, harvest pizza with pesto, lentil stew, pumpkin tagine… the possibilities are endless. Check out the feast we had last year with all those autumn foods (click here).
12. Going to Cafés, the Movies or Museums
Staying home on a wet and windy day in October is always a good idea, but I think it's also the perfect time to go to town and meet a friend for coffee in you favorite Café, watch a romantic comedy at the movie theatre (plus lots of popcorn!) or take a stroll through a cool exhibition.
So these are the things I love about October but I'm curious to hear from you! What do you love about October?
MerkenMerken
MerkenMerken
MerkenMerken
MerkenMerken
Summary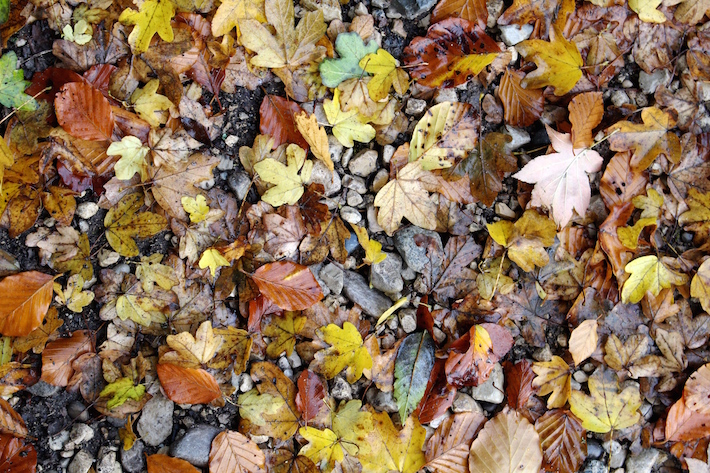 Article Name
12 Things I love about October
Description
October is THE cozy season and there is so much to love about it. Here is a list of the things I enjoy in autumn.
Author