Today I have a new amazing recipe for you! Have you ever eaten Clafoutis? It's a traditional dessert from France that is somewhat of a mix between cake and pudding. Traditionally it's made with lots of eggs and the constancy and taste is similar to pancakes. The other day I went through my recipe collection and picked up an old, ripped out page of a food magazine. I remembered how much I liked to make Cherry Clafoutis but I hadn't made it in ages. That's when I decided to make an egg-free and dairy-free version of a Clafoutis! Can you guess how I replaced the eggs?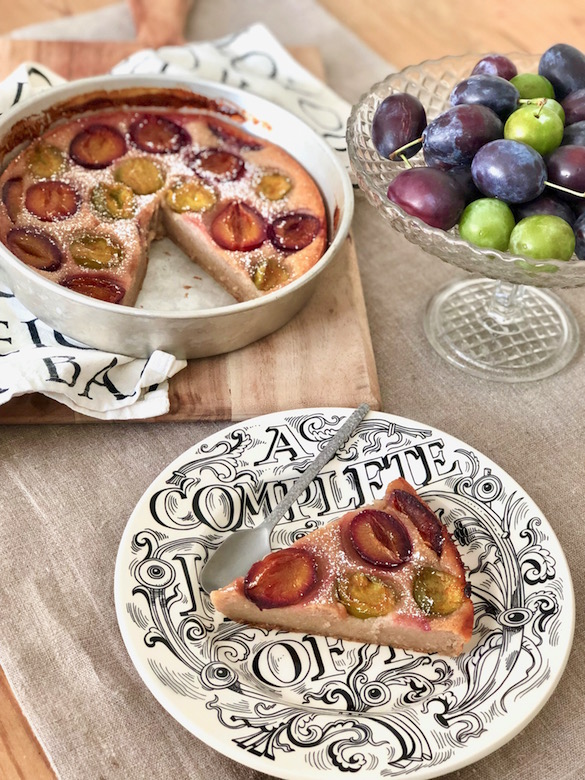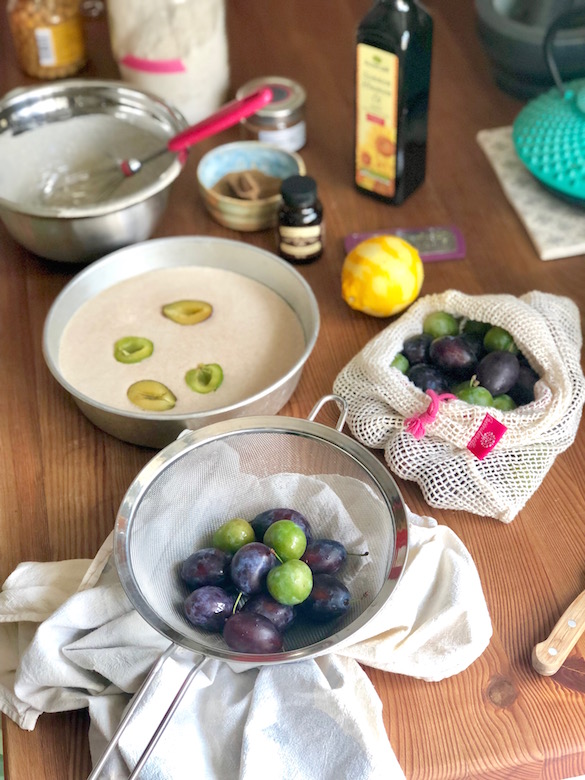 To create the right consistency, this one is made of silken tofu. And to replace the attribute of binding, I used Aquafaba, which is the liquid of preserved chickpeas or beans. Read more about Aquafabe here. I'm so happy with the result of this Clafoutis. It actually tastes like I remember it! I was a bit surprised to be honest. No need for eggs at all.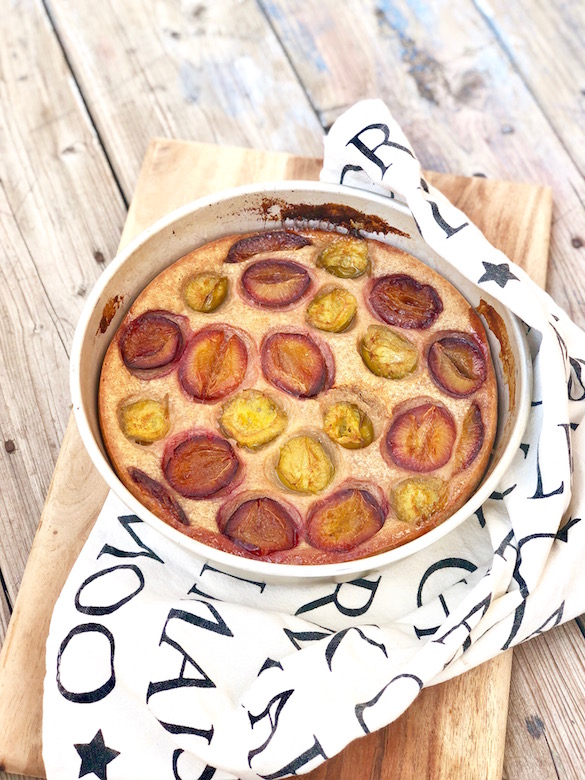 Since plums are in season right now, I made a Plum Clafoutis, but you could replace them with any fruit you desire.
If you ever make a Clafoutis, you will notice how easily it is put together. It's one of those simple cakes that you can whisk up without effort and free-style it with spices and fruits you have at hand. I will surely make many more Clafoutis from now on and try some more fruit and spice combos. So check back for more soon!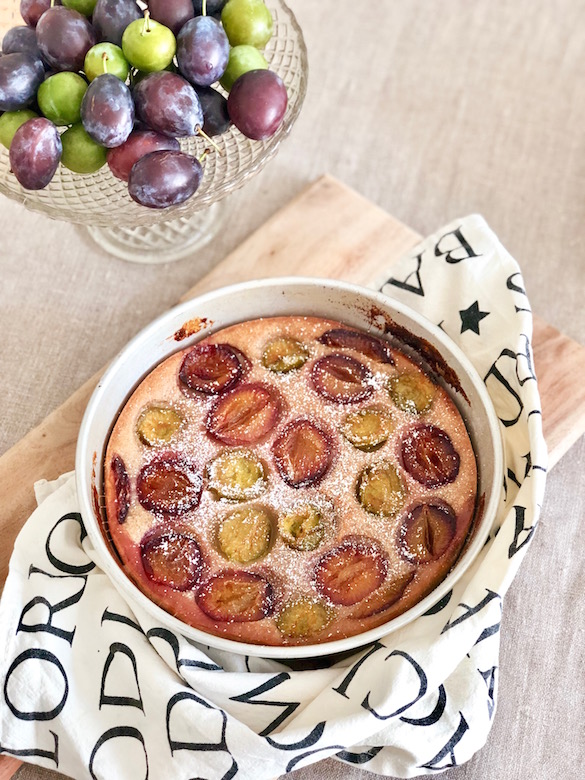 Also, I want to try different kinds of flour with this recipe. In this one I'm using spelled whole grain, which turned out lovely. Next I want to try a mix of white and spelled whole grain.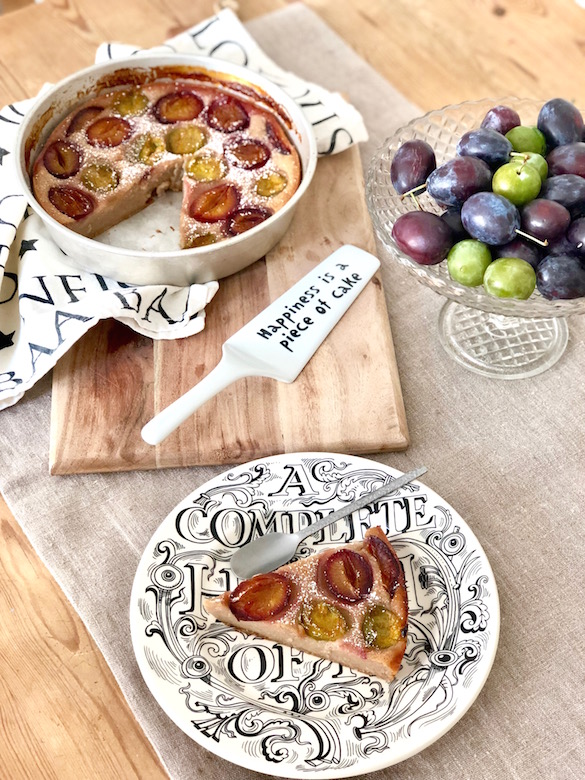 Let me know if you try this recipe or if you make your own version of it. I would love to hear about it!
PS: In case you want to make more plum recipes, check out this one. It's so good too!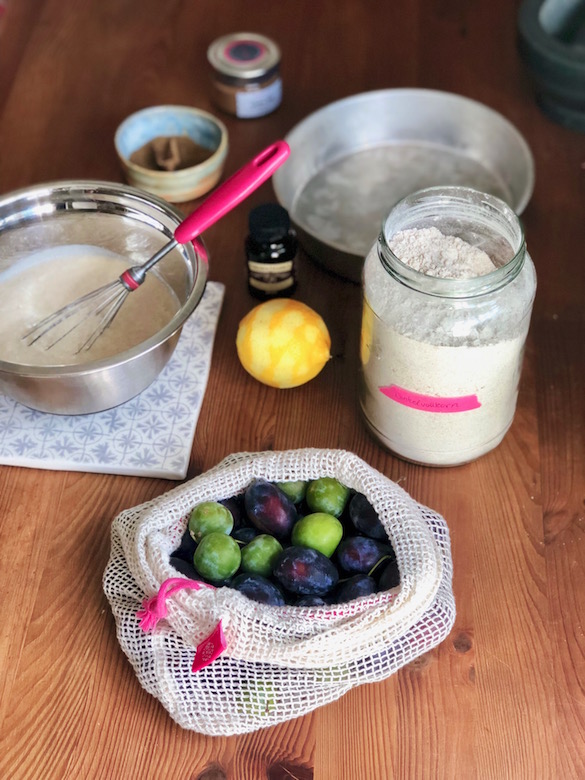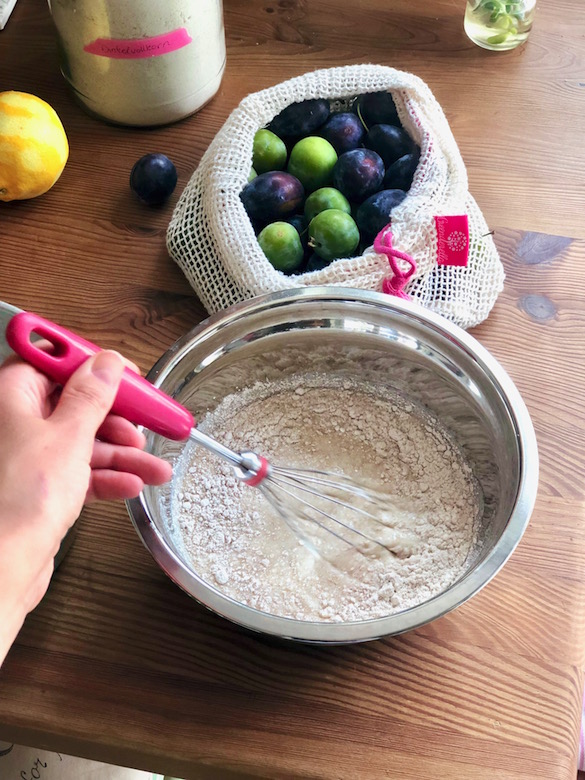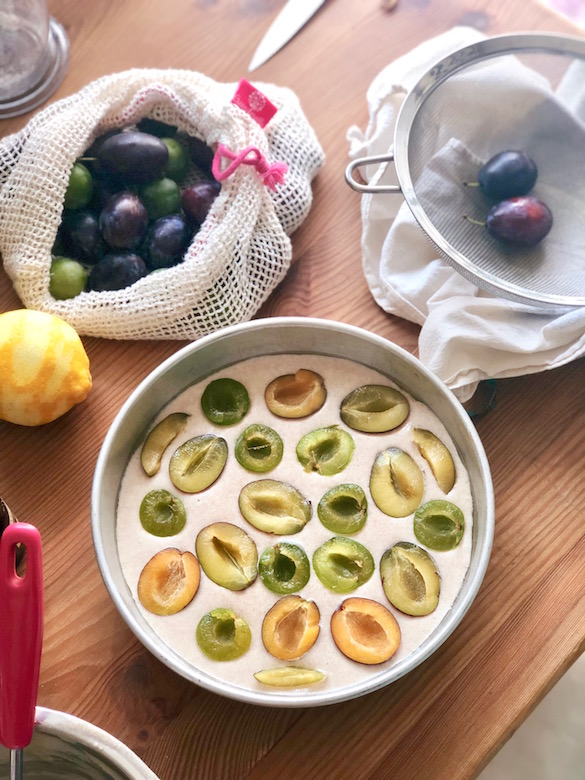 Vegan Plum Clafoutis
(serves 6-8)
1/4 cup coconut milk
1 block silken tofu
1 tsp vanilla extract
1/2 tsp cinnamon
3 tsp cornstarch
zest of one medium sized lemon
1/2 cup raw cane sugar
2 tbsp Aquafaba
3/4 cup flour (I used spelled whole grain)
8-10 mixed plums (washed, halved and stoned)
powdered sugar for decoration
sweetened coconut yogurt or vegan whipped cream for topping (optional)
Mix coconut milk, silken tofu, spices, cornstarch, lemon zest, sugar and Aquafaba in a blender until smooth. Transfer into a bowl and whisk in flour carefully.
Grease a round baking dish or tin (about 8-9 inches / 20 cm) with vegetable oil (I used sunflower oil). Fill in the mixture, and top with plum halves.
Bake at 200°C for about 40 minutes or until golden. Let the Clafoutis sit to cool down a little before serving.
You can eat it just like that or top it with some sweetened coconut yogurt or any (vegan) whipped cream. Or try it with a scoop of ice cream. Yummers!