Today was the perfect weather to prepare the garden for growing vegetables. I did try to grow zucchini and strwaberries last year allready but this year I want to do it right. So today I chose a good spot in the garden to make a vegetable garden. Here is a picture of the spot I chose.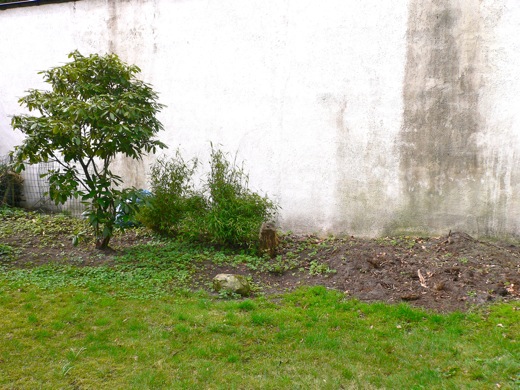 Yes, I know. I wish I could make the wall look better by saying that it is antique or something. 😀 But it is what it is – a very ugly wall. For now we have to live with it. ; )
We have quite a lot of space in the garden but since we don't live here for very long yet, most parts don't look the way we want it to. Last year I planted a lot of flowers. My dream is to have some kind of cottage garden. I just love the look of old english cottage gardens with tons of flowers everywhere and of course your own fruit and vegetable plants. It will still take some years until our garden will take that shape though. For this year, besides planting more flowers, I plan to grow zucchini, cucumbers, tomatoes, pumpkins, brussel sprouts, beans and strawberries. And in another part of the garden I want to grow a little herb garden with basil, thyme, lemon balm and some other herbs that I still need to choose.
This is what my vegetable garden looked like after couple hours of work.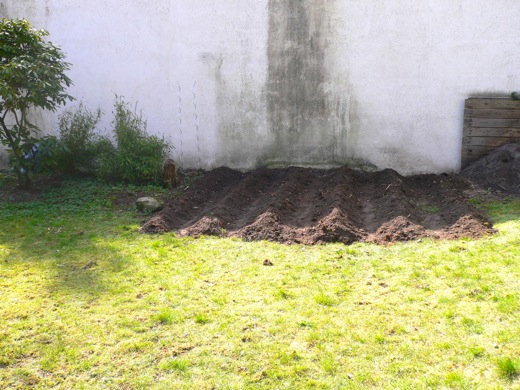 It doesn't look like it's done by a garden expert, but so far, I am very happy with it. And it was so much fun. I enjoy being outside in the garden a lot, especially when the weather is sunny and warm like today.
Nevertheless it is not warm enough yet, to plant the seeds outside, so I planted them in little pots. They will have to grow inside, at a sunny spot, until it gets warmer outside. Here are some of my seeds: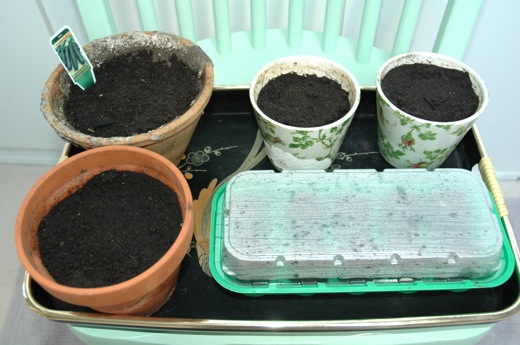 The green container is a tiny greenhouse. I put the tomatoe seeds in there since they like it extra warm.
Now all I need to do for now is water them and hope that the seeds will germinate. Wish me luck!!!  Oh, and if you have any advice or stories to share, I would love to hear them. I am so new with all this 🙂 Have a great day everybody!
MerkenMerken
MerkenMerken