Since I'm trying to avoid waste in my life, I'm constantly on the lookout for great alternatives to common products.  I love learning about new products or methods, like the one I'm about to share with you today: a homemade liquid laundry detergent made of horse chestnuts.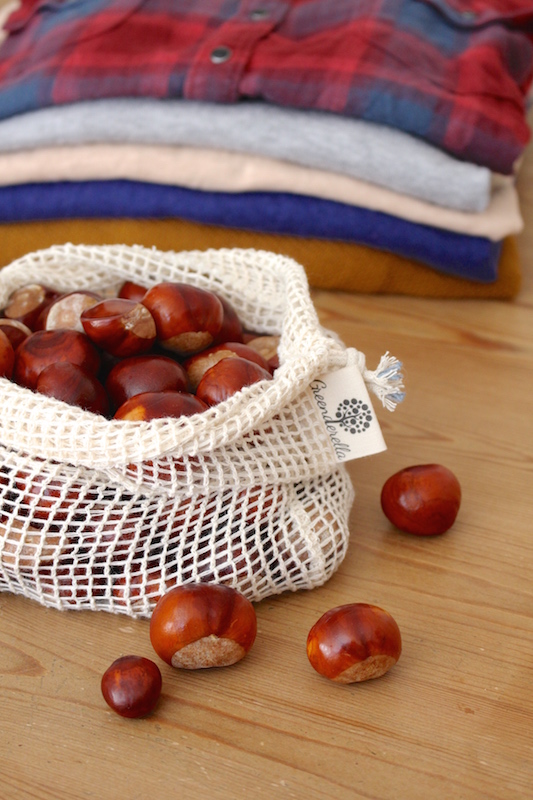 When I started my journey of living "zero waste" I realized that often times I could actually make my own products with simple ingredients instead of buying something packaged. It's a great realization that you don't have to rely on commercial products but that you can actually make a lot of things from scratch. Having said that, I have to admit that I don't always have the time for DIY, so usually I do a mix of homemade products and store-bought products (in recyclable packaging whenever possible).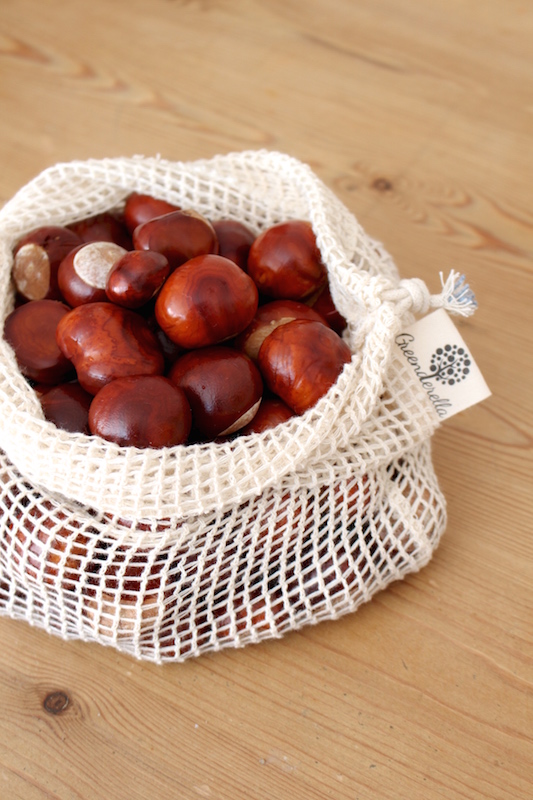 The recipe I'm sharing today is seasonal and I only make it during fall when the chestnuts fall fresh from the tree. The chestnut tree is native here in Germany, so during fall you find them everywhere and I harvest them during my walk with the dog. To collect and store the chestnuts, I use my reusable cotton nets.
I could of course harvest loads of them to last for longer but I don't do this because I don't want to take away too many chestnuts from wildlife. Especially in the urban city I'm living in, wildlife doesn't have too many trees to forage on. Though if you live in the country side, I can imagine there is plenty for everybody and your personal yearly supply. 😉
Enough said, let's get to down to business.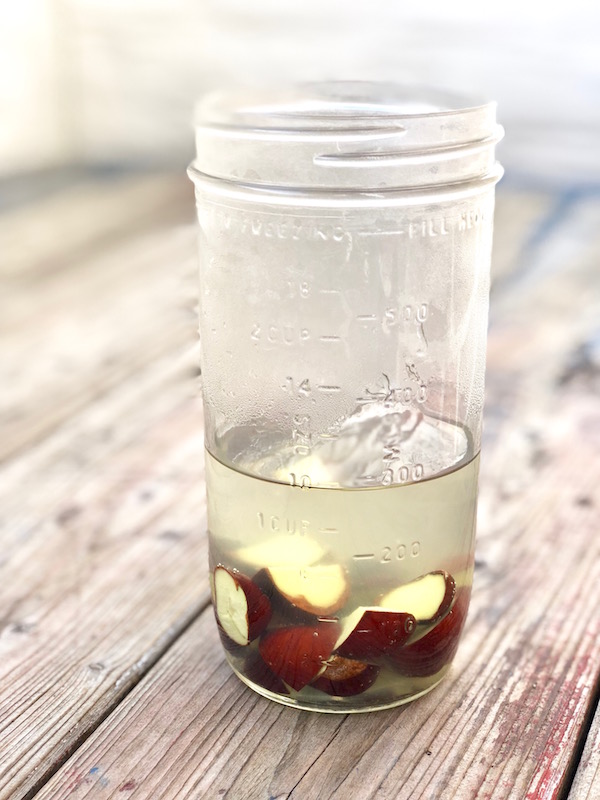 For this DIY detergent recipe you don't need much more than horse chestnuts and water. Super simple. Though I do recommend to also add baking soda and some essential oils to your laundry, to have an even better result. Make sure to read my recommendations in the washing instruction, because it's best, if you add them separately.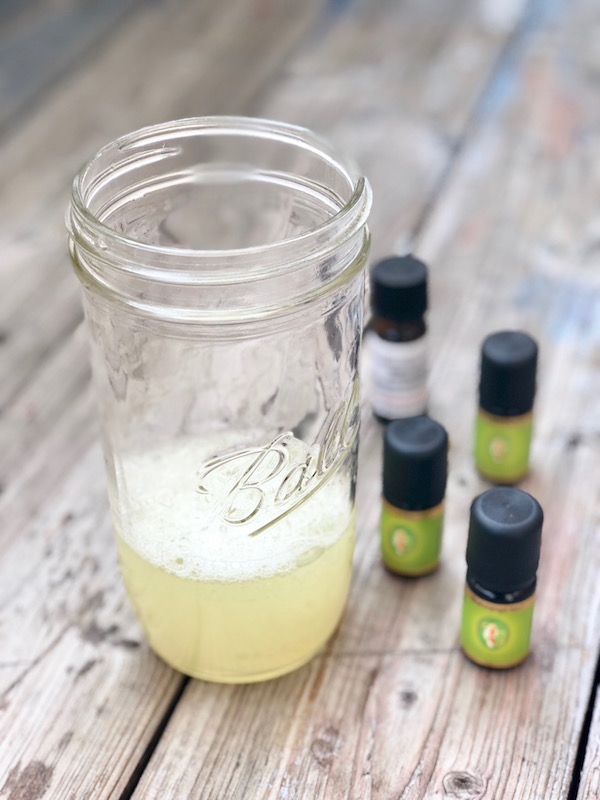 The recipe is for one load of laundry. Once the chestnuts are cut open they rot more easily, so I only prepare them once I need a batch. By the way, if you think about chopping the chestnuts in your high speed mixer, I wouldn't recommend. I tried this before but they are so hard that it's quite tuff on the mixer. The easiest and most uncomplicated way is cutting them with a sharp knife.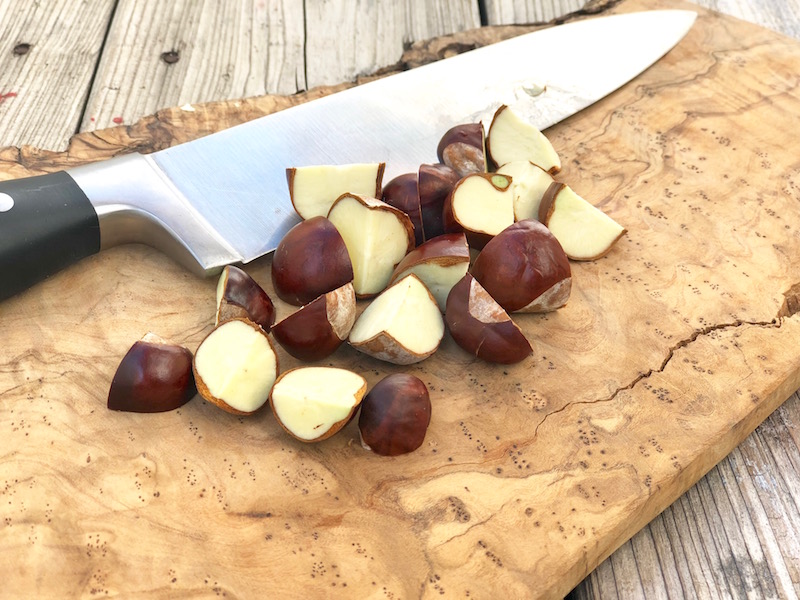 Horse Chestnut Laundry Detergent
(recipe & instruction for one load)
Ingredients
5 horse chestnuts
1 cup hot water
2 tsp baking soda
essential oil  (my mix: 3 drops lavender, 3 drops bergamot, 7 drops blood orange)
Step 1: Prepare & Soak Chestnuts
Cut the horse chestnuts in quarters with a sharp knife. Cover with one cup of boiling water and let soak for at least 2 hours or over night.
Step 2: Strain
Strain the water from the chestnuts. (You can reuse the chestnuts for two more laundry loads!)
Use finished detergent liquid like usual detergent, filling in the middle compartment of the washing machine.
Step 3: Add Essential Oils
To make the most of the essential oil and get that beautiful smell, put the essential oil directly in the right compartment of the washing mashine. This compartment is used in the last washing cycle.
Step 4: Add Baking Soda
The soda is most effective when it's not diluted with the liquid from the beginning. It should become active and bubbly directly on the fabric. That's why it's best to put it directly on the dry clothes, into the washing drum.