Today I want to share my current morning face routine with you. Since I always love looking at others morning routines, I thought you might like to have a peak into mine and hopefully take some tips away from this. I've also been testing some new eco-friendly face products and can't wait to share them with you!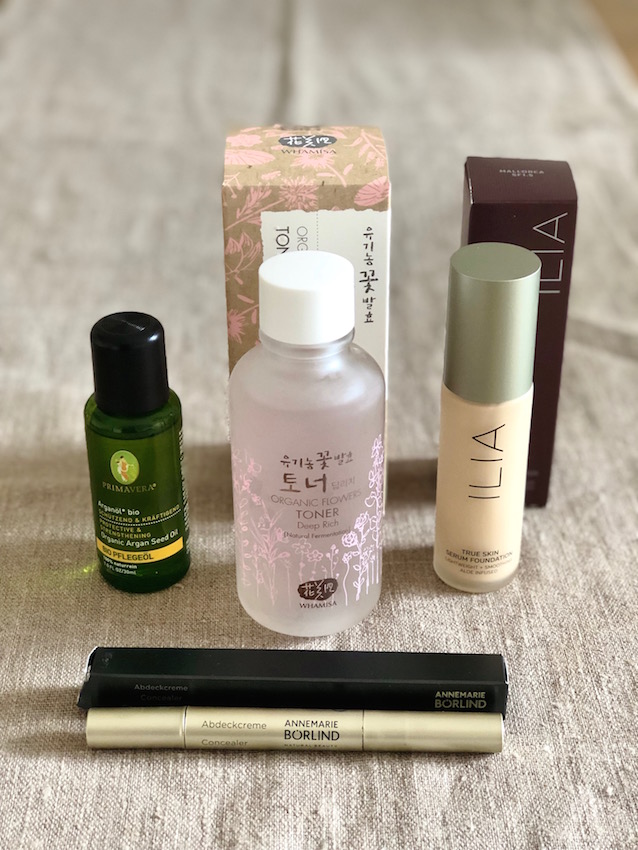 ---
My Skin Type

Before I start, I quickly want to let you know what kind of skin type I have. There are so many skin types and every skin has different needs, so I think this is important to know before choosing products. My skin type is very light with yellow undertones. I'm 34 years old, so my skin is starting to need more nourishment. In general it tends to be a bit dry, especially in the winter.
Seeking advice from a Professional
The reason I'm writing this post is because I feel like I finally found a good routine and products that make my skin glow and look beautiful. I've never been a person who spends a lot of time on beauty and trying out products. Especially since I try living less wasteful, I tend to use a minimal range of products. Nevertheless, I felt like I could definitely optimize my product choice. My face didn't always have a nice glow and my skin looked pretty dry. Since I just finished my old products I thought it was the right time to try something new and get advice from a professional.

My friend recommended Lisa Scharff, who has an organic beauty studio in Hamburg. So this is where I went and left with some great advice and amazing products. In her lovely and bright studio, Lisa offers a great selection of eco-friendly products. It's a good feeling to brows through products knowing that someone with same values has pre-selected them. I didn't feel the need to check out every label and ingredients, like I do in a big commercial store. This way it was much more fun! In case you're ever in the area, I can definitely recommend Lisa's studio.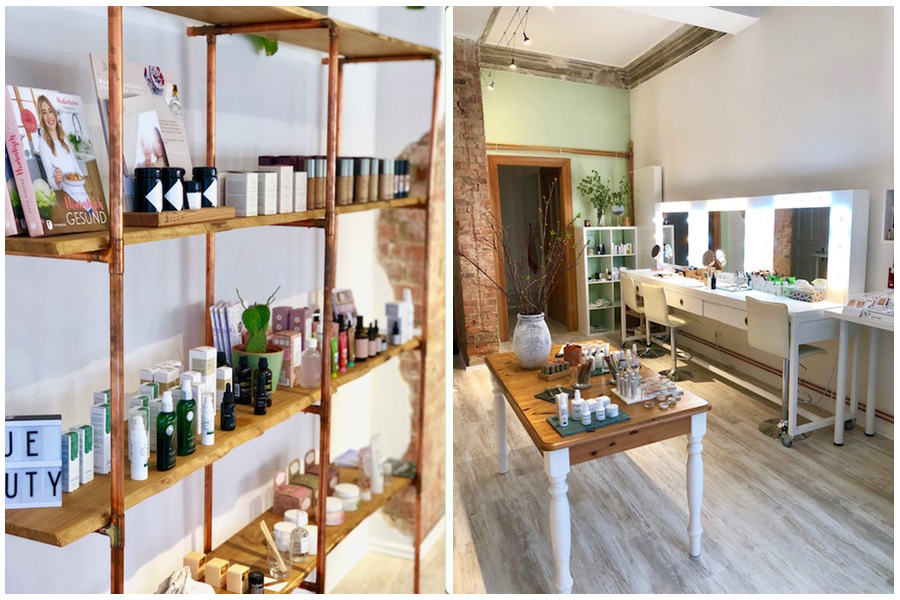 ---
New Products and Recommendations
Face Care Products:
Up until recently I was using almond oil and apricot kernal oil for my face and body. I then learned that this was ok for the body but not enough nourishment for my face. After browsing and trying some different products, I quickly fell in love with the "Organic Flowers Toner" from Whamisa.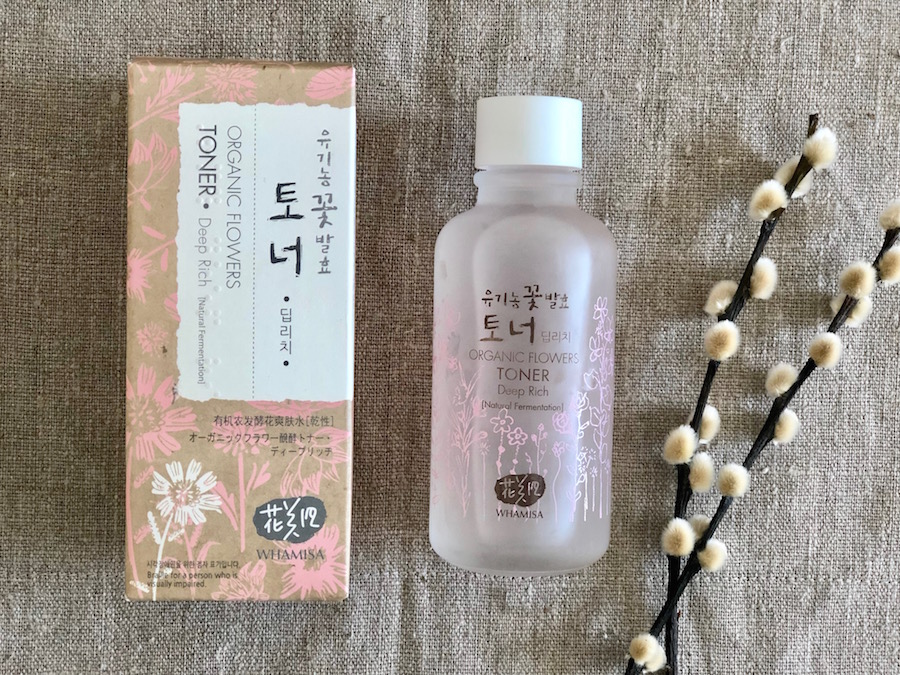 This vegan toner is similar to a serum and very high in moisture. What's special about it is that the liquid in this product comes from fermented botanical extracts instead of water. It also contains aloe vera, dandelion and argan oil. The light texture and tangy smell leaves the skin really fresh and energized. Almost like a spa treatment! 🙂

To moisturize the skin further more and add glow, I also bought argan oil, which is very rich in Vitamin E and fatty acids. This one is richer than almond oil, so I use it on my face only. a few drops are enough. The one I bought is organic and by Primavera. After using it for a few months now, I'm really happy with it. It's such a pure and simple way to nourish the skin.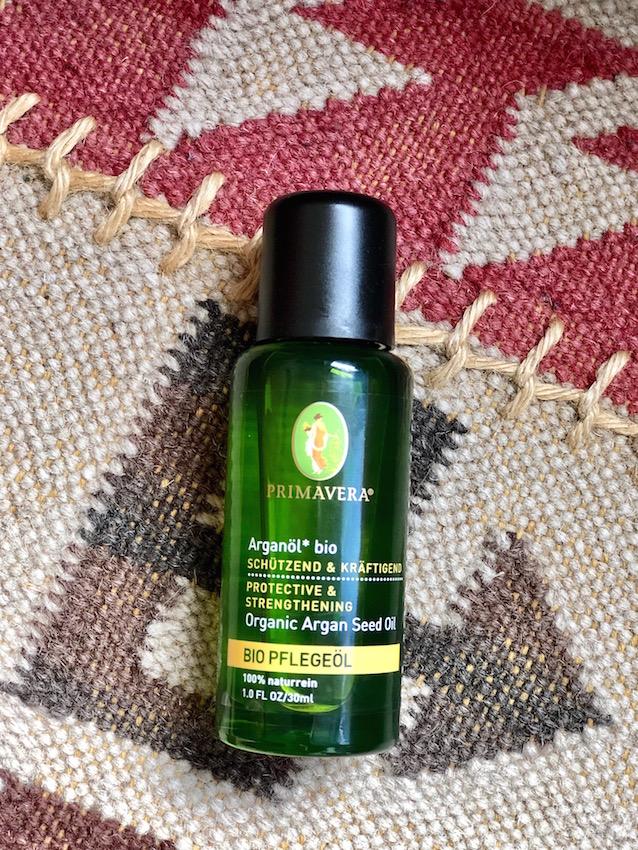 ---


Foundation & Concealer:
Another product I bought at Lisa's studio is a new foundation. While using a make-up from The Body Shop for a while (packaged in glas), I always wanted to find a good organic foundation. I was then recommended a make-up from Ilia, an organic beauty company. The one I bought is a serum foundation – taking all the hydration I can get, haha!
I've tested it for a while now and am pretty happy with the result. It blends in nicely and stays fresh for quite a while, not the whole day though. What I also love about it is that it is vegan and comes in a glass bottle. It's a very light make-up, that gives a very natural look. If you're looking for one that covers up a lot, this one might not be for you. Though, if you're using it together with a good concealer, you can still get a really good result.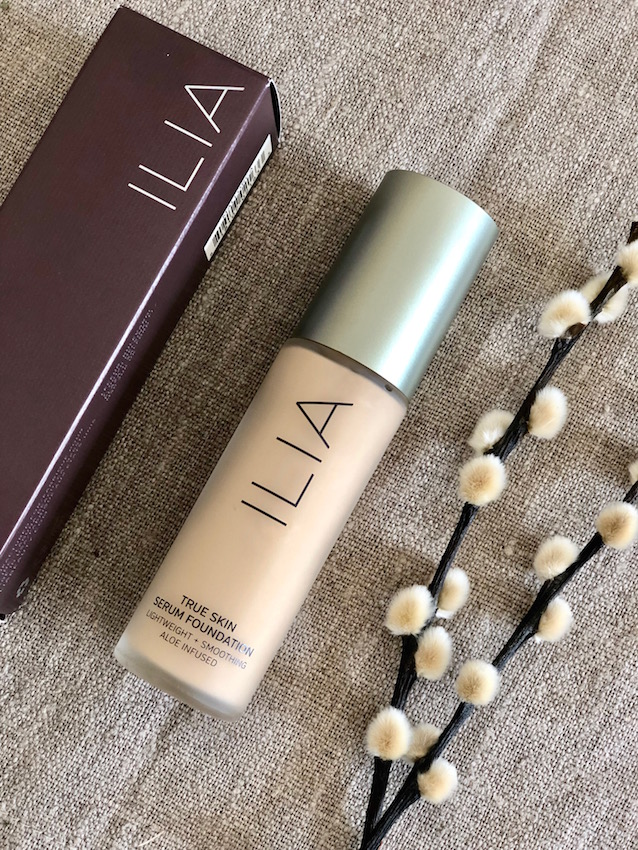 Talking about concealer… I just bought my very first concealer ever! For some reason I always thought it's enough to put some make-up under my eyes but boy was I wrong. I was totally amazed how much of a difference a concealer makes. I look so much more fresh and awake! 😀 The one I chose is from the organic beauty company Annemarie Börlind. I chose the light color "natural" and can recommend it very much. It's also vegan and free of animal testing.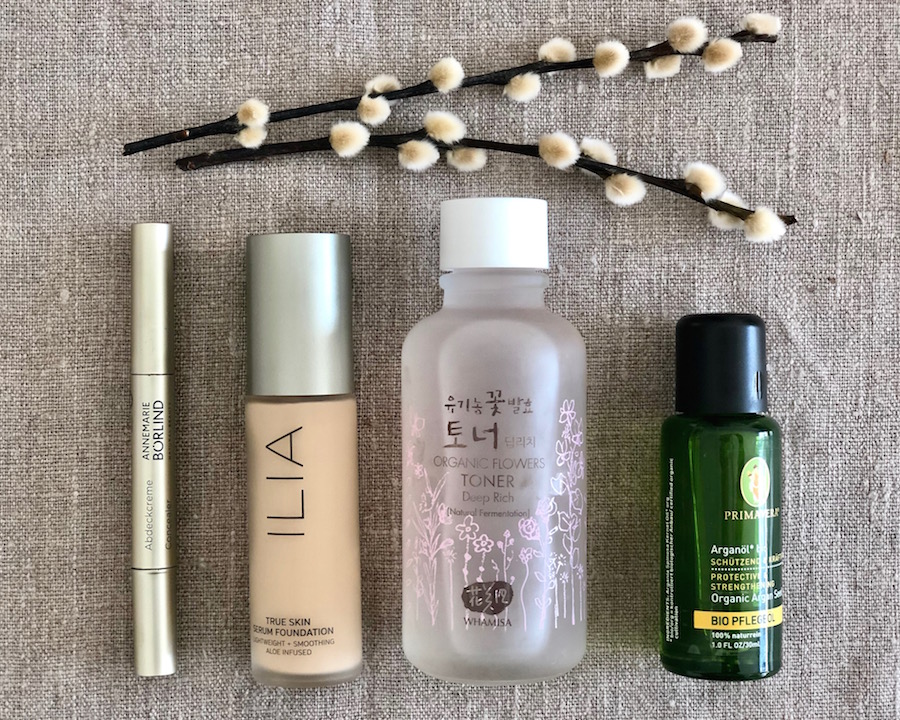 ---
Before and After
Just for fun I thought I show you a little before and after of my day make-up. The first picture shows me without anything, on the second picture I wear the Ilia make-up and Annemarie Börlind concealer, and the third picture shows me with additional lip stick, a bit kajal and some rouge.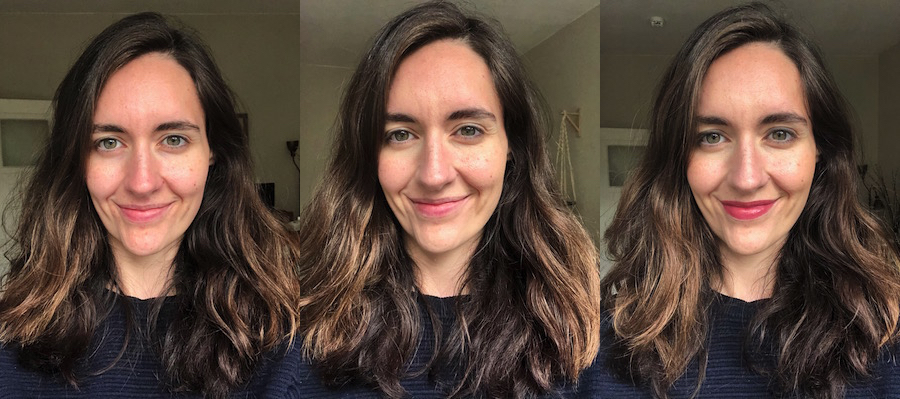 ---
Quality instead of Quantity
I have to admit that I was hesitant to buy these products because they are very expensive at first glance. We live in a world where we are used to cheap products and a big selection of products. Then again, you cannot expect high quality ingredients, fairly payed workers and so on, if you only pay a few bucks for a product. Also, if one would buy many different products, you end up with the same amount of money, but less value. So I rather spend a bit more money on good quality and have only a few products instead. In the end I'm not paying more and the planet doesn't have to pay for it either.
---
My Morning Face Routine
Before you start thinking that my routine takes a lot of time, it is actually done in just a few minutes. Still, I love using this time to add a few minutes of calmness and spa feeling to my day. And to be real, this is not an every day routine. I have those lazy days too when I hardly do anything. 😉
I wash my face with water and dry with a towel.
I then apply a thin layer of the toner/serum by tapping it into the skin with my finger tips
Afterwards I often use a face massage roller. It helps the skin to absorb the toner and also relaxes the facial muscles. I also love the cooling effect that it has.
Then I apply a few drops of argan oil and massage it into the skin.
Before applying make-up I let the skin absorb the oil, meanwhile I use another oil (like almond oil) for the rest of my body.
To apply foundation and concealer I use my fingers. To avoid wasting product, rather tap the cream onto the skin instead of stroking it.
After the foundation is ready I use some bronzer, rouge, lipstick or eye-makeup. Whatever I feel like.



Now that I shared my routines I'm also curious to hear from you. What are your hacks and product recommendations? I'm curious to hear.