Growing up in Germany, one of my favorite dishes as a kid was creamy spinach with potatoes and egg. And to this day I love spinach in all different kind of varieties. Have you ever heard of the Indian dish Palak Paneer? It is so flavorful and tasty and in my opinion it doesn't even need the Panner, which is a kind of cheese. So if you're a fan of this dish but want to keep it plant-based, then you should definitely try this version. It's SO good!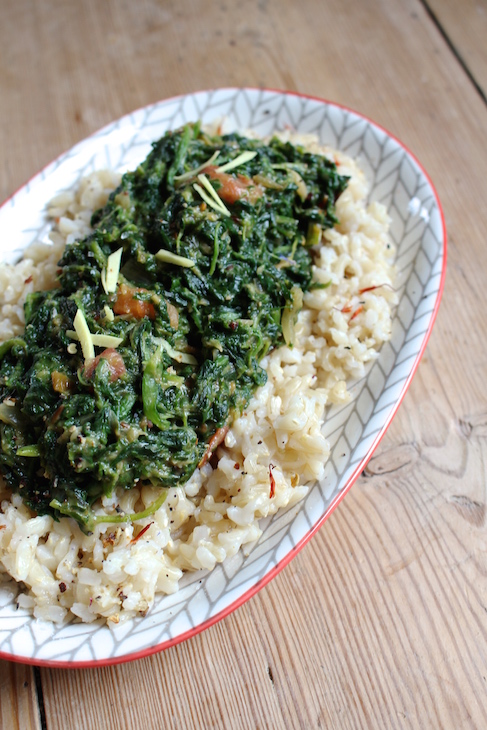 Instead of dairy cream I use almond butter. If you mix it with water and heat it up, it will become super creamy!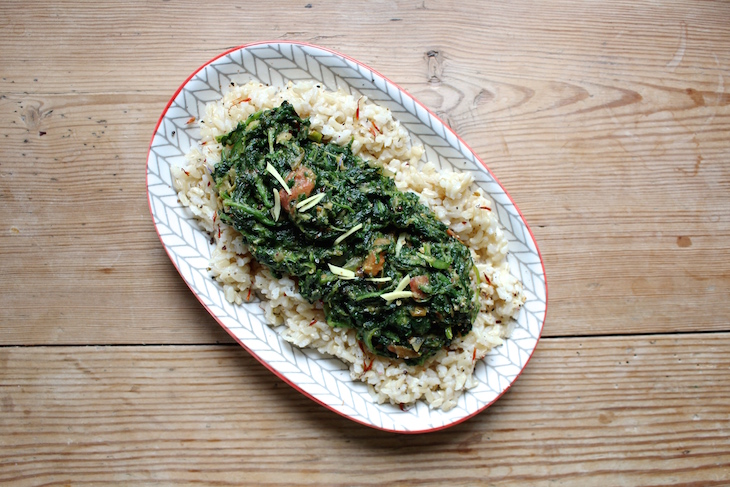 Brown rice is a great addition to this dish. I actually love the consistency of this rice, which is a bit more dente than basmati rice for example. Brown rice also adds a great value of nutrition to this dish, since it is not processed and stripped of its natural wholeness, like white rice. This way it's still rich in Selenium, Manganese, B-Vitamins, Anti-Oxidants, Fiber (just to name a few benefits) and it will help you stabilize your blood sugar levels.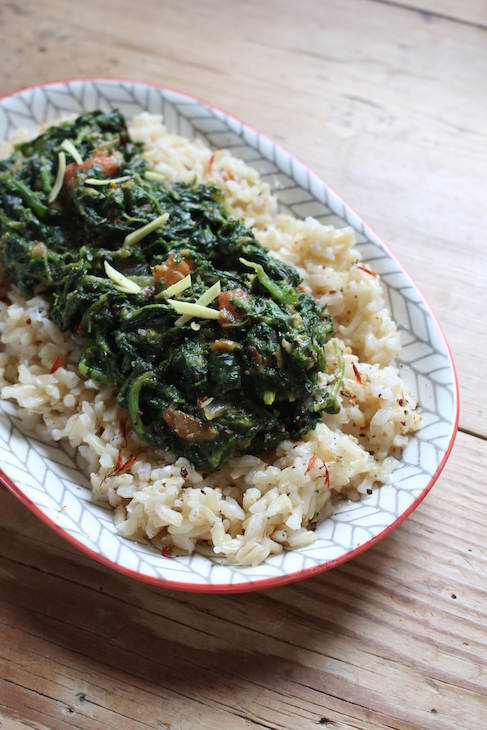 So here comes the recipe:
Creamy Indian Spinach
(makes 2 portions)
1 cup brown rice
1 tbsp coconut oil
1/2 tsp cumin seeds
1/2 tsp ground cumin
pinch of chilli flakes
1/2 tsp garam masala (indian spice mix)
1 onion (finely chopped)
3 cloves of garlic
1 piece of ginger (about 1.5 inch / 3-4 cm)
1 tomato
450g chopped spinach (I use frozen spinach cubes)
50g white almond butter or cashew butter
1/2 tsp salt
Bring to boil 2 cups of water with one cup of rice and a dash of salt. Once it's boiling, put the lid on and let simmer on low heat for about 40-50 minutes (or until all water is soaked up).
Prepare a garlic-ginger paste by blending both until smooth. You can add a little of oil here to make it smoother.
Heat up coconut oil in a large pan and stir in cumin, chilli flakes and garam masala. Let roast for about a minute and add the chopped onion. Cook for a few minutes until onions are softened and then add the garlic-ginger paste. This is gonna smell heavenly already! 🙂
Chop up the tomato and add to the pan, together with the spinach. Put the lid on and let cook for a few minutes until the spinach is cooked. You might need to add some splashes of water, so it doesn't burn.
Meanwhile mix together 50g of white almond butter (or cashew butter) with 1/4 cup of water and 1/2 tsp of salt. Add this mixture to the spinach and heat up until it all thickens and becomes nice and creamy. Add more salt if needed and serve together with the rice.
MerkenMerken