While browsing Pinterest, I came across the idea of creating a small altar for your home – a peaceful little space that adds positive energy to your home. It could even function as a place to practice meditations and affirmations or where you center and calm yourself after a busy day. You could fill it with objects that are meaningful to you or simply objects that give you a good feeling, like candles, plants, crystals, rocks mirrors, pictures etc.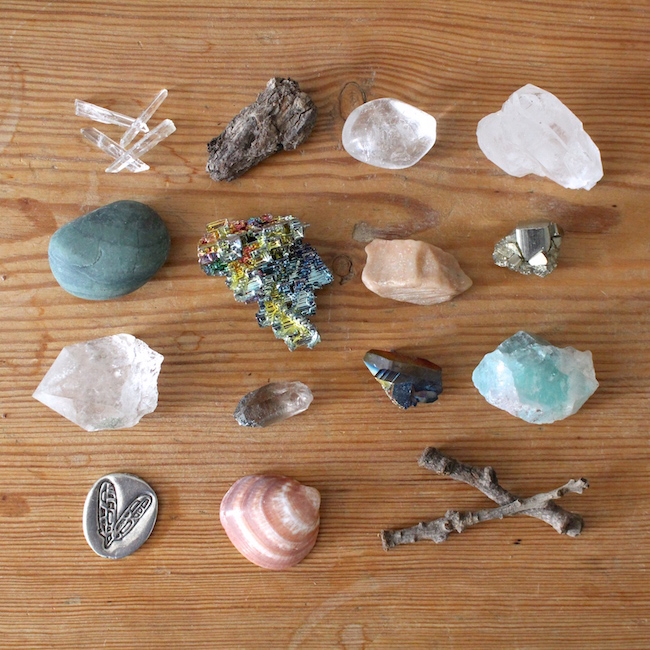 I loved this idea and wanted to create a spot like that for my new apartment as well and this is how it turned out to look like.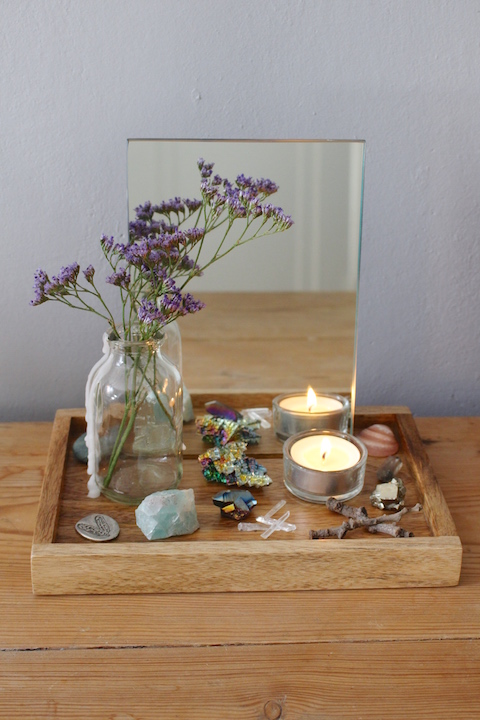 When I visited Copenhagen last December I found this cute shop with all kinds of bohemian home decorations. They also had this little wood tray with a mirror and I thought it would be perfect for my personal altar, or how I like to call it "tray of good vibes". 🙂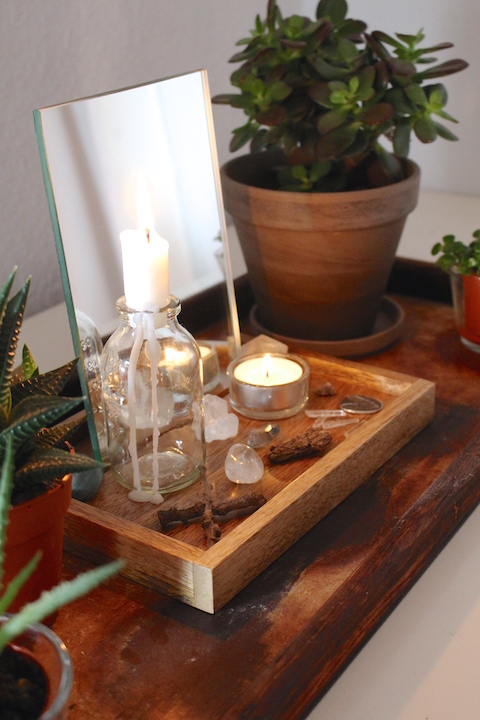 The mirror is a nice addition because it reflects light and all the crystals that are being displayed.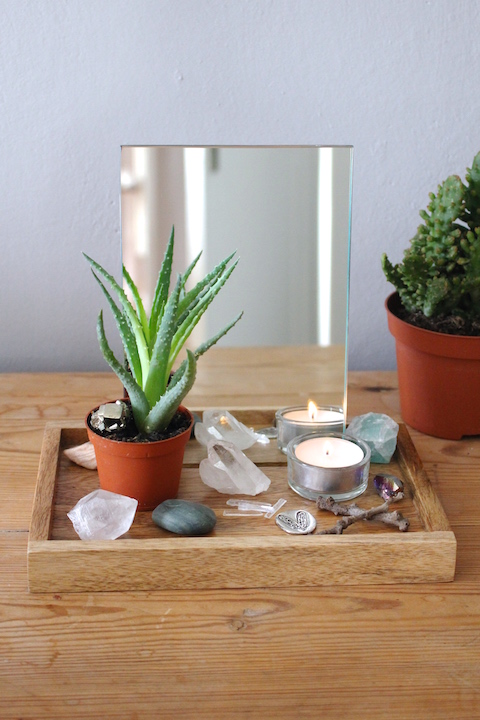 Most of the objects I used have a personal meaning to me. When I travel and come across places that I fall in love with, most times I collect a little "lucky charm" to remember the place. So whenever I look at them it makes my heart smile.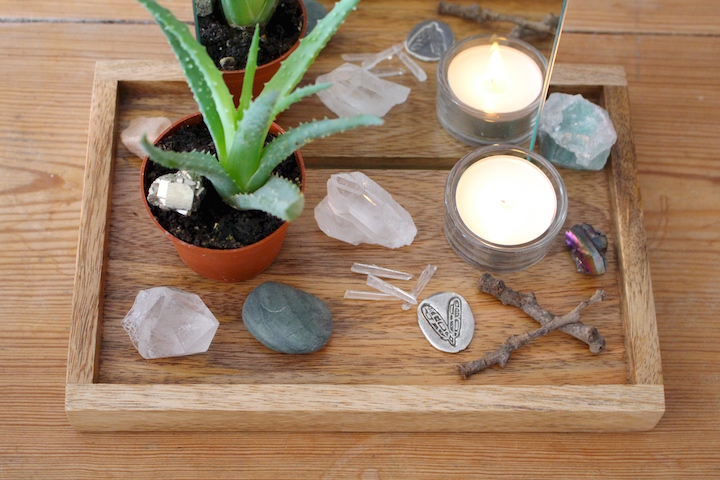 On the tray you can for example see a rock from a pebble beach on Vancouver Island, some tree bark from Los Olivos (California) and crystals from Golzern (a small mountain village in Switzerland). There is also a crystal that my friend gave me which reminds me of her. And there are some other crystals that I just love looking at because they are so beautiful.
Over the time I've collected quite a few of these lucky charms, so instead of displaying all at once, I mix it up and decorate the tray differently whenever I feel like it.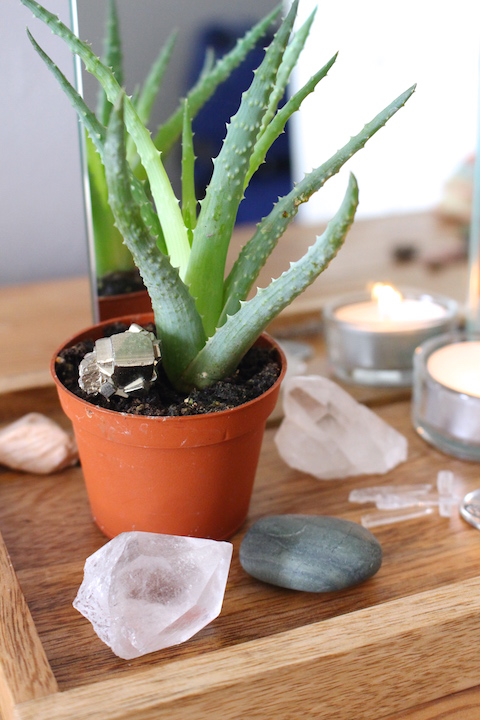 I also like adding a candle and plants. These small succulents are perfect for it.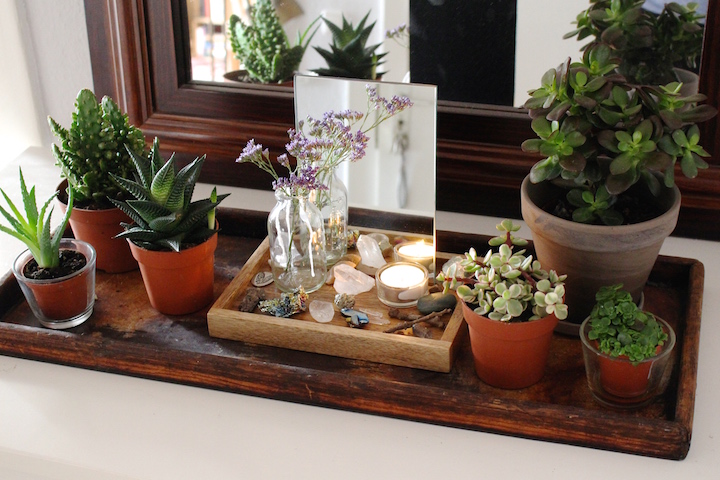 Since the tray is small, I put it in different spots like the sideboard in the entrance or on the desk. The other day I even put it in front of me while I did a meditation. I'm not sure if crystals actually do have a natural effect on the body but I guess it's whatever you make of it. Surrounding myself with beautiful objects and memories surely creates a positive energy for me and that's all that counts. 🙂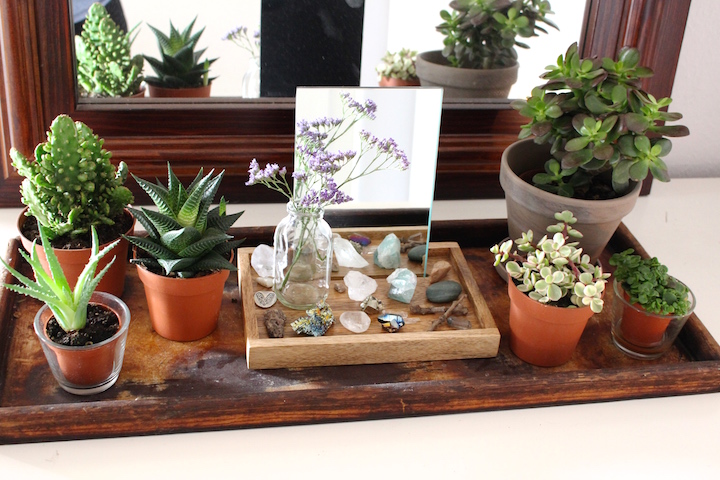 So this is my latest little DIY project. Do you also have something similar at home? How would you assemble your personal altar?
MerkenMerken
MerkenMerkenMerkenMerken