Gooood morning everybody! This is another sunny day in paradise and I hope that all of you will be able to enjoy it (even if there's no sunshine where you are). I wanted to give you a little update on my vegetable garden today, since a lot has been happening in my little pots.
Two weeks ago, I planted zucchini-, tomatoe-, pumpkin- and cucumber seeds. Remember the picture?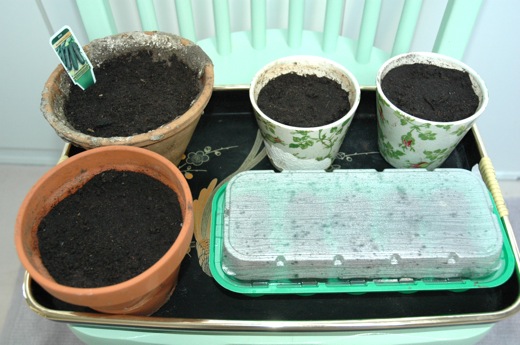 I tell you, it was so exciting when the first greens started to peek their heads out of the soil! I was suprised at how fast they actually grow. Look what has happened in just two weeks of time:
These are the cucumber plants:
I also planted some pumpkin seeds in pots outside. It were seeds that I took from an organic pumpkin myself last fall. I washed and dried them, then put them in an airtight container and stored them in the fridge over the winter. I was curious if those would also work and to my suprise they did! Woooohooooooo! 🙂
Maybe I should remind you that I am a total beginner when it comes to gardening and growing vegetables, so even the smallest success is a real excitment for me! 😉 For some reason I've always thought that growing your own vegetables would be a very hard thing, but I am learning that it isn't and that it also brings a lot of joy to watch nature do it's magic. I only wonder why I didn't try it earlier!
Here another pic of my pumpkin plants: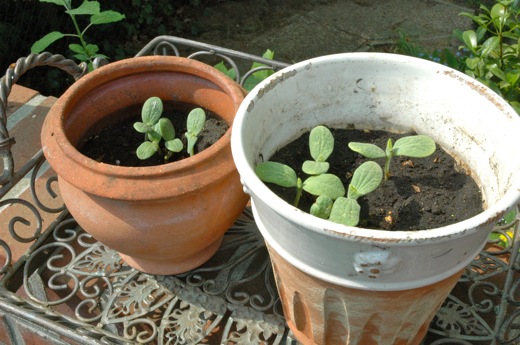 I'll keep you updated with my veggies. I guess the next step is to seperate the plants, so that they have enough space to grow. Or is there anything else I need to know? Tips and tricks are as always very welcome! 😉
Have a great one everybody!
MerkenMerken