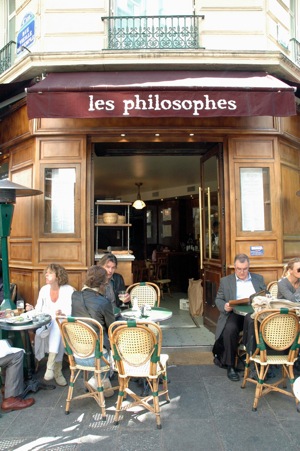 Bonjour everybody! I'm back from my little Paris trip and it was manifique!! Eventhough it was only for 2  1/2 days, it felt like a week because we did so many things. My mind still has to process all the impressions, so half of me is still in Paris actually.
It hasn't been my first Paris trip, but this time it was different. More than ever, I could feel the special parisian atmosphere that I had only know from movies and for the first time I could experience a little bit of the french way of life. I think with each visit to a city you can focus more on little things rather than the big picture and that is what I did this time. That way I got to see a different side of Paris, one that is much slower and more relaxed than the hectical/touristy side of it. The strongest feeling I took back from Paris this time was that people there really enjoy life, which was wonderful to observe. Old men playing cards on a park bench, people having big picknicks at the Seine at sundown, families strolling through the park and also the whole cafe culture. The city is full with restaurants and cafes and especially with this sunny weather that we had the cafes were crowded all day long. People were sitting outside talking and watching other people pass by. Something I enjoyed myself very much. It's almost like a catwalk actually. While sitting in cafes I noticed so many good looking and fashionable women and men, it was a joy to look at and even gave me new fashion inspiration.
Some other things we did were visiting a fleemarket (I bought some old french cookware :)), the Musee D'Orsay (which architecture alone was fascinating!), the Jardin du Plantes (with its beautiful tree alley) or also we did a night-light boat tour on the Seine. Here are some of the expressions that I collected:
Then, there was the food of course! Oh, j'aime le food! Before our trip I did some research on what/where to eat (for example on the great blog "God, I love Paris") and I am so glad I did because it lead us to some wonderful places. Two in particular were my favorites. The first stop we did after arriving at the train station was a bakery called "Du Pain Et Des Idees" and it was the best start for a Paris Trip I could have wished for. Such a wonderful, french-style bakery with even more wonderful pasteries! We had to get 4 different kinds because they all just looked so good.
Another favorite of mine was the Rose Bakery. We had breakfast there (scones with rubarb marmelade) and it was not only delicious but also the atmosphere was very unique. The name of the cafe already says it, you are sitting in the bakery, next to the kitchen where you can watch how your bread and breakfast is being prepared. It was a quite hour (conversation wise), we were busy eating and observing. A very relaxed breakfast!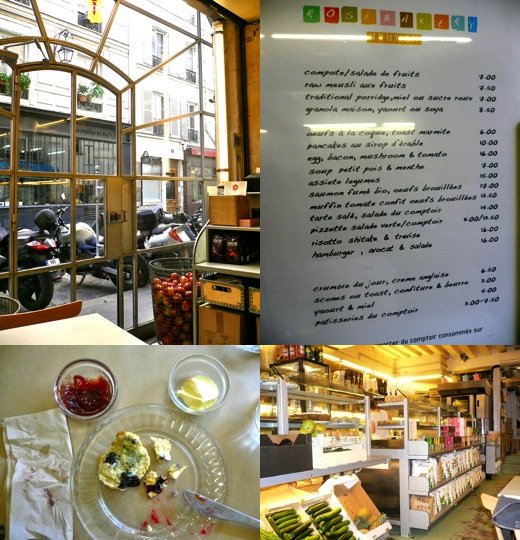 And this is some of the other delicious (vegetarian) food we found on our trip: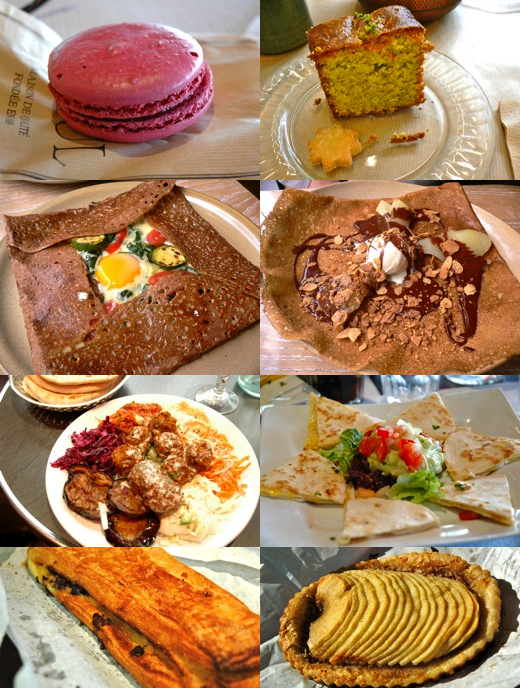 As I wrote in my last post, on this trip we took a night-train to Paris and as I imagined, it was an enjoyable way of travelling, which also left a much smaller carbon footprint than the airplane. I did wake up a couple of times because the train is obviously moving and shaking a little but overall it even felt cosy… this is how it must have felt in the baby carriage! 😉 I will definatelly travel much more by train whenever I can from now on!
So, now I'm back home, which always feels so good as well, but the fun thing about travelling is to get out of your daily routin and experience new flavors and colors of life. Even a couple of days can be enough! I think this time I was able to bring some of those experiences back with me and can hopefully adapt them into my daily life. Savoir-vivre!
PS: Let me know in the comments if you want more informations or adresses of places that we went to.
MerkenMerken
MerkenMerken