Is it possible to have a crush on chocolate? I believe it is! 🙂
But let's start from the beginning. The other day a nice girl named Hanna from Original Beans wrote me and asked if I'd be interested in trying their chocolate and maybe write about it if I like it. I was intrigued. Did someone say chocolate???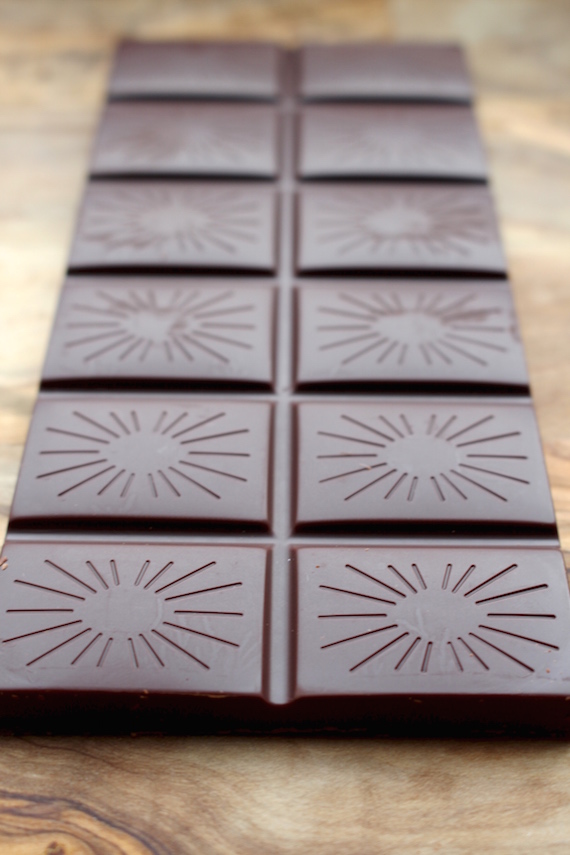 Fortunately Original Beans has an office in Hamburg, so I went to visit them and Hanna let me taste a whole lot of chocolate and told me about the company, the chocolate and the environmental projects they're involved in. That's where the love-story began.
And since I don't want to keep good stuff to myself, I'm happy to share this new love with you!
The Company
Original Beans was founded in 2008 in Amsterdam by Philipp Kauffmann, an environmentalist who had previously worked for the UN and WWF. This is why the foundation of the company is not only enthusiasm for delicious chocolate but also a big passion for saving the environment.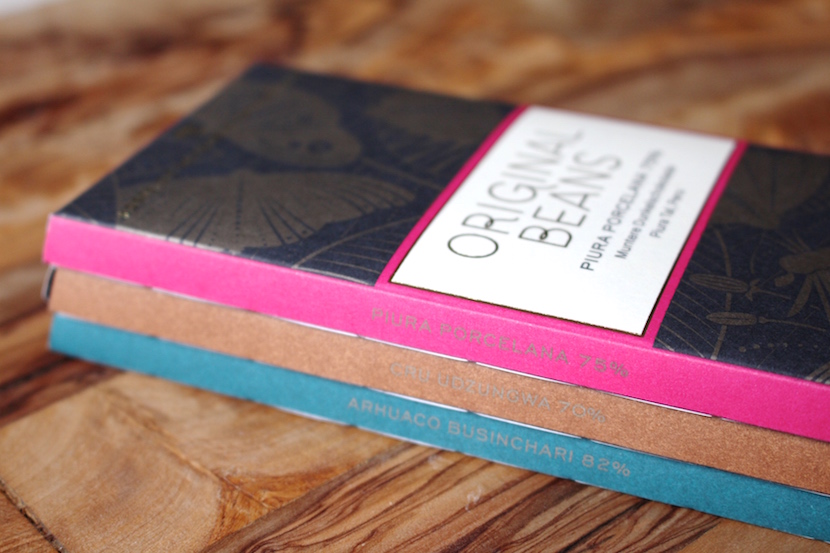 Original Beans has a wide range of chocolates (12 kinds as of now) and they're adding new flavors all the time. The chocolates vary from white to dark and more than half of the bars are actually vegan. They take great effort in choosing their ingredients, always ensuring high quality. Most of the chocolates are labeled as organic. If a bar doesn't carry the label it is "because they contain cacao beans that are not certified yet but are totally natural, or cannot be certified, because they are wild". Some of them are so wild and rare that farmers have to harvest them on little islands that can only be reached with small boats. How cool is that! I really enjoyed listening to those kind of stories that Hanna told me, because it let me connect with the origin and people behind the product and makes me appreciate and enjoy the chocolate even more.
I especially loved to hear everything about the efforts the company undertakes to create a sustainable product.
Environmental Efforts and Zero Waste Philosophy
In fact, Original Beans is a climate-positive company, meaning that they do more good than harm to the environment. This is achieved by many different actions like for example running their machines on 100% renewable energy, short transportation routes, green web hosting and zero-waste packaging.
I really love that you can actually compost the whole packaging, including the cellulose wrapping. Instead of plastic they are using wood cellulose.
But this is not nearly all that the company does to protect the environment. With every chocolate bar sold, Original Beans is also planting a tree!
And they don't plant the trees randomly. Each chocolate bar is dedicated to a special cause, mainly supporting endangered species of animals that live in the area where the tree will be planted. So by buying their chocolate you actually help preserve and grow ecosystems and habitats of these animals.
You can tell by the design of the beautiful packaging, which cause is supported by the chocolate bar. Behind every chocolate bar there is a unique story and good cause.
Every Purchase Supports A Good Cause
For example the Piura Porcelana chocolate is made from a very rare "albino" chocolate bean that grows at the coast of Peru. It's also home to endangered birds and butterfly species which are being helped by the reforestation efforts of Original Beans.
Another great cause is supported by the chocolate bar Arhuaco Businchari. It is made of a cacao bean from Sierra Nevada, that almost went extinct. Original Beans is helping to re-grow the cacao forest that also functions as a buffer zone to the rainforest. At the same time the proceeds of this chocolate bar support the local Arhuaco tribe by teaching them to cultivate the cacao forest and thereby giving them an income.
My favorite story though has to be the one behind the Cru Udzungwa chocolate bar.
Its cacao beans are grown in Tanzania, home to thousands of elephants who roam the land freely. Unfortunately farmers of the region often shoot at elephants because their passages lead through their fields, destroying their crops. To help the elephants, Original Beans is putting up fences in form of bee hives – elephants are scared of bees -, to guide the elephants around the farmer's fields. It's a win-win, because not only the elephants stay safe, but the bee hives also establish a new income for the farmers. Plus, it's supporting the bee population. Check out this little video of the cause:
Let's have a taste!
Ok, now I've written so much about the great mindset and efforts of the company, let's get down to chocolate business. It's such a positive side-effect that we can do good by consuming chocolate BUT of course it also has to tingle our taste buds. 😉 And well, these did not disappoint! Every chocolate bar I tasted was so delicious in its own way and all of them were very flavorful and rich!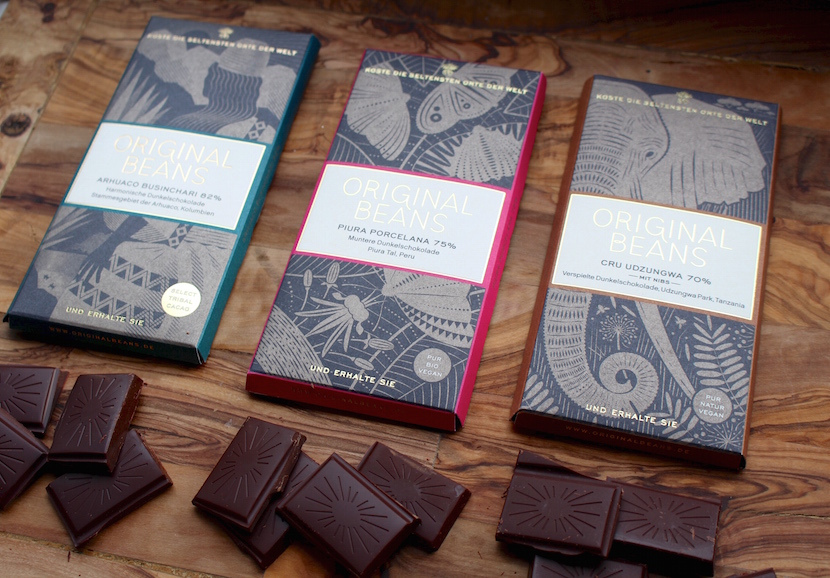 Because of the diverse places the cacao beans grow in, the flavors vary, always reflecting the plants and soil that grows around them. The chocolates have hints of orange, raspberry, toffee, pecan, lime, apricots or jasmin tea – just to name a few.
You can definitely taste the quality and knowing about those little background stories and good causes really adds a whole new appreciation and enjoyment. So I really recommend to check out all of the information that is provided to each bar (even more on the webpage), before trying the chocolate yourself.
My Favorites
As I'm pretty new to the dark chocolate game, I tend to fancy the ones in the lower cacao percentage most. Therefor two of the six kinds I tasted stood out for me. One of the them being the (vegan) Cru Udzungwa chocolate, not only because I love the story about the elephants but because the chocolate tastes so mild and even has a crunch that comes from cacao nibs. So good!
The second would be the (vegan) Beni Wild Harvest, with 66% cacao. Its description reads that it has "hints of floral honey, apricot and jasmine tea". Even though my taste buds are not trained (yet) to taste all the different flavors, I definitely tasted the lovely subtle sweetness. I really loved this one!
Chocolate Love
Now, if you remember me asking if it's possible to have a crush on chocolate, I guess it's becoming pretty clear why I have a crush on Original Beans chocolate! 😀 From the great taste and quality, over the beautiful packaging, to the amazing environmental efforts – they're simply doing a great job and I really admire mindful companies like that.
If you want to find out more about the chocolate and projects or if you want to indulge yourself, head over to their webpage at www.originalbeans.com
MerkenMerken
MerkenMerken
MerkenMerken
Summary
Reviewer
Review Date
Reviewed Item
Author Rating





Product Name