Hi guys! Are you enjoying the holidays? If you're celebrating Christmas (or not) I hope that you spent some wonderful days with your loved ones. Unfortunately I didn't really have the time to get into the Christmas spirit this year. Time just passed so quickly! I didn't even have time to write a new blogpost. Boohoo! Luckily I did manage to disconnect from everything, once Christmas was here and had a few very relaxing days with my family. And comes today, I also managed to sit down (on the couch with a hot chestnut spice latte, oh yeah!) to write a new blog post. Yay!
I have to admit that this post was eventually planned to be a "gift idea" post. Obviously it's a bit late for that but I hope you'll enjoy reading about these new finds and tips of mine either way. It's all things that put an extra smile on my face this December.
I'm off ordering pizza and watching the latest Mission Impossible movie with my family now. I hope you'll also enjoy the rest of this Sunday and send lots of…
Love & Hugs
xxx
1. Urban Swag Jewelry
My dear friend Nicole just started her own jewelry label, called Urban Swag, and I'm super excited for her! The energy and effort she is putting into her small business is simply inspiring. I have always admired her for her unique fashion style. The name "Urban Swag" definitely fits her style and the jewelry she creates – made with love for details, bohemian style and understatement. Another thing I love about her jewelry is that she mixes old and new, meaning that her pieces consist of up-cycled elements of old jewelry. It makes each piece a "one of a kind" and adds a special charm to it. The other day I visited her on a market and bought these pretty earrings with an up-cycled blue stone element. So lovely! <3
2. Korres Perfume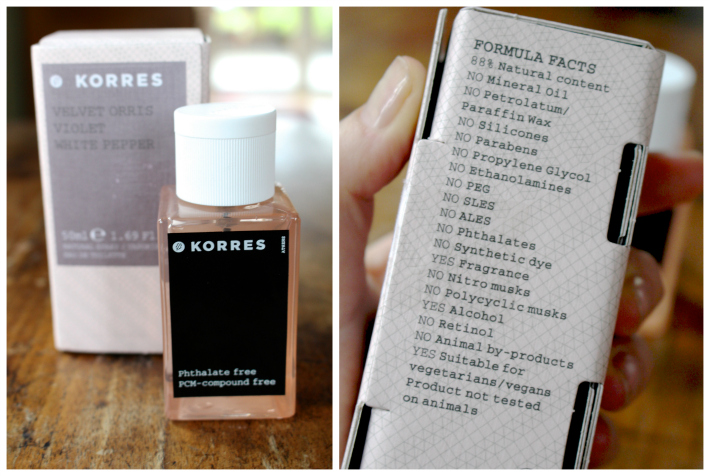 While I was strolling through Zürich the other day, I came across a brand of body care products that was completely new to me. I started smelling the different perfumes they offer and thought they all smell really pleasant. The kind of pleasant that tricks your mind into wanting to buy it. 😉
I almost couldn't decide which one is my favorite, but in the end I chose the combination of velvet orris, violet and white pepper.  It smells SO lovely (kinda warm and earthy) and is my favorite fragrance at the moment. Korres is using natural ingredients and strives to be completely eco-friendly (using 100% renewable energy, creating packaging that is 99% recyclable, vegan, working with micro farmers, no animal testing and more). A great discovery!
3. Acorn Cookies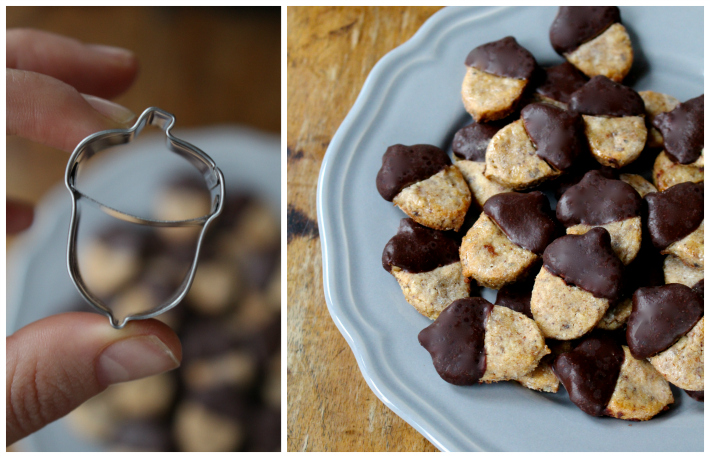 I had seen a picture of chocolate covered acorn cookies in the internet the other day and I just had to replicate them. What a cute idea for the autumn/winter season! Needed to share it with you.
4. Chocqlate DIY Chocolate Set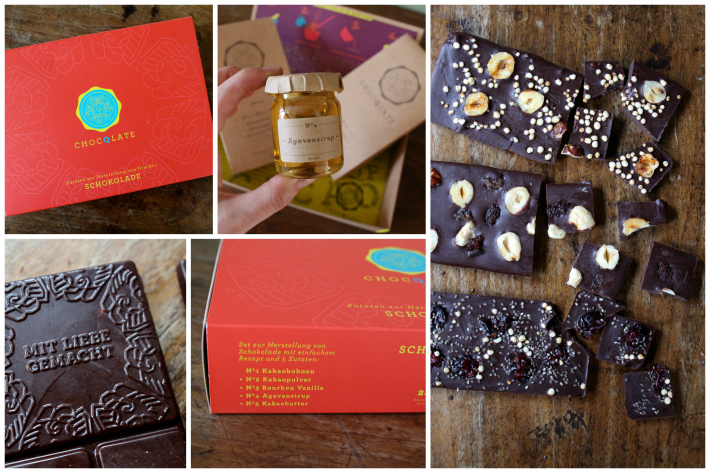 Mama taught me not to take candy from strangers but I made an exception when the kind folks from Chocqlate asked me if I would like to try a sample of their DIY chocolate set. Who am I to blame? 😉
The pretty set consists of all the ingredients for making your own chocolate – what a neat idea?! It was the first time I ever made my own chocolate and I was surprised how easy it was. Yet, making the effort to melt, whisk and decorate your own chocolate makes you appreciate and enjoy the end result even more. The chocolate itself is delicious (I love dark chocolate!) and it melts in your mouth so nicely. I also love the fact that this chocolate is vegan and made of organic, fair-trade cocoa beans. The company even grinds and packages their products locally (in Munich, Germany), which I think is awesome! I'll definitely make my own chocolate more often from now on. This time I added roasted hazelnuts, quinoa pops, raisins and cranberries but the possibilities are endless really. 😉 This would also make a great gift btw!
5. Flea Market Treasure Hunt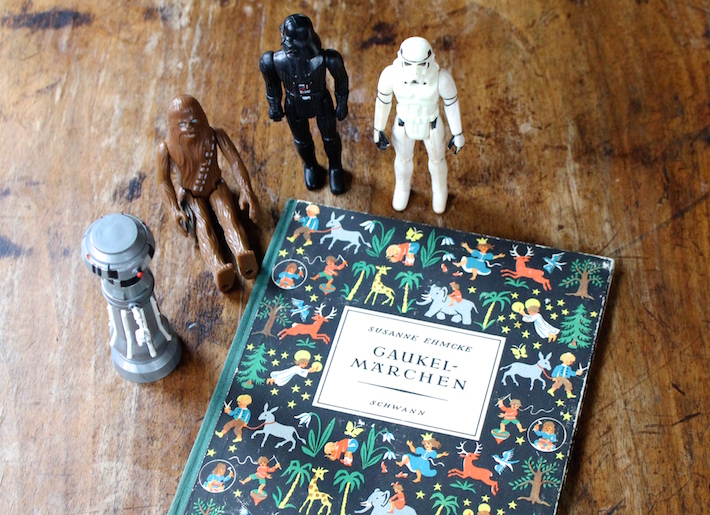 Visiting flea markets is a great hobby of mine.  I love hunting for special/old/quirky/beautiful things. It's such an eco-friendly way to shop and you get such good quality for small money. I have been going to a few flea markets lately and found some swell stuff, some of which were vintage Star Wars figures from the 70's (the perfect gift for my Star Wars loving cousin) and a cute children book. I don't have a kid (yet) but until that time, this is gonna be sitting decoratively in my book shelve. Have you been going to flea markets lately? What treasures have you found?
6. Revivo Candela Candles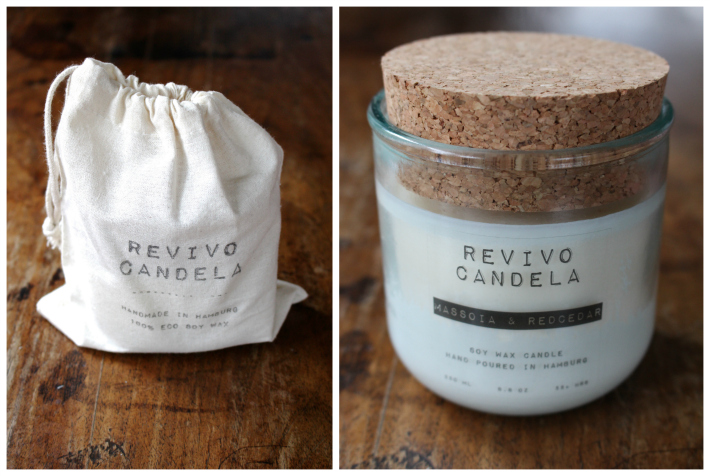 Besides flea markets, I also like visiting DIY markets, where local crafters and businesses present their products. This is where I came across Revivo Candela, a local business from Hamburg (Germany) that sells hand-poured soy candles. Eco-friendly and vegan! This alone is amazing, but I actually need to rave about the scents of these candles. They are sooo good! I had a hard time picking just one of them but since it is winter I chose one of the real cozy scents called "Massoia & Redcedar". Good stuff! I have to sniff it like an addict every time I pass it, haha. Another plus: the candles burn 50+ hours and the wick crackles when being burnt. If you haven't noticed yet, I'm in love!
7. DIY Photo Album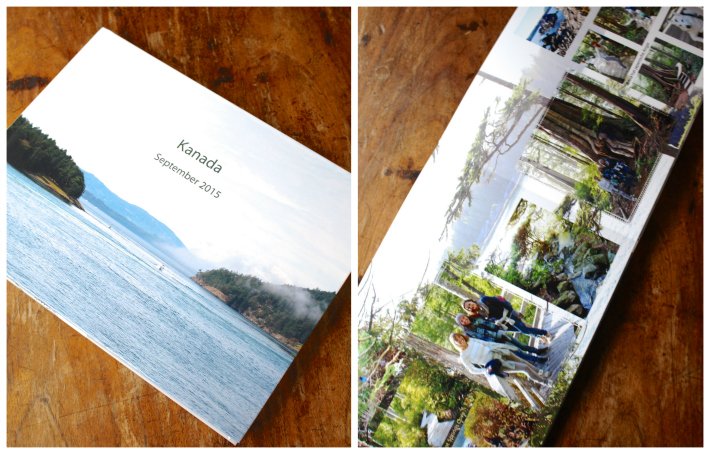 Making your own picture album is such a great way to create lasting memories and also be creative, which is so fun in general! After our Canada trip last September (read about it here and here), my friends and I were so keen on making a photo album and now that I'm holding it in my hands I'm so happy that we did! It turned out so beautifully and I know that I will skip through it for years to come. For this album we chose to create it with an online software from Cewe, that I wanted to recommend to you because it turned out to be the most eco-friendly company for photo printing in Germany at the moment. Their paper is FSC certified, they're using mineral oil-free colors and the chemicals are being reused to 90%.
8. Pumpkin Jam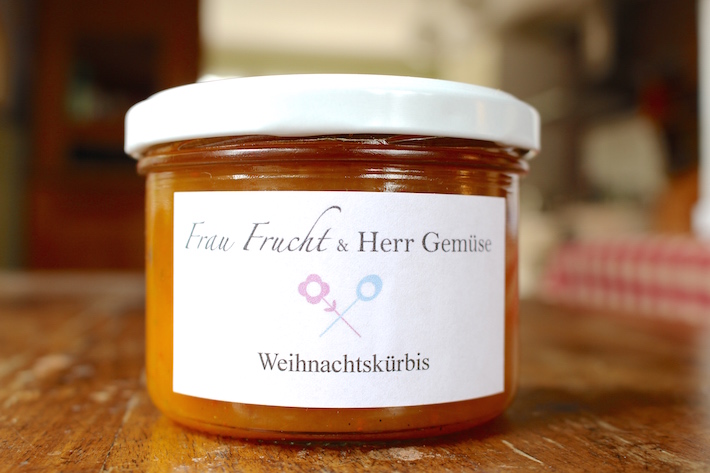 One year ago, around this time, I have already blogged about my new jam obsession: pumpkin jam! Have you ever tried it? I even made my own version with apple and cinnamon, yum! It's just the perfect jam for the holidays. This year I discovered a new pumpkin jam on a Christmas Market, made by a small business called "Frau Frucht und Herr Gemüse". It's super delicious! So if you never tried pumpkin jam before, don't miss out on it! You won't regret it.
MerkenMerken
MerkenMerken
MerkenMerken
MerkenMerken