Twitter can be so fun and helpful. When I posted a comment about my freshly harvested butternut squashes, I got people replying me with recipe ideas. Since I only cooked with butternut squashes once before, it was so nice to get some cooking inspiration. One of the idea was a pumpkin-carrot soup with ginger, which sounded fantastic in my book!
Today I tried it and it was so yummy. I'm having a bit of a cold at the moment so that soup was just what I needed. The ginger doesn't only add a nice flavor, it's also good for fighting the cold.
Butternut Squash And Carrot Soup With Ginger
1 tbsp olive oil
1 medium onion (chopped)
1 organic butternut squash (peeled and cut in small cubes)
4 organic carrots (cut in slices)
1 piece of ginger (about 5 cm long, finely chopped)
1 liter vegetable stock (add more if needed)
salt to taste
3 sprigs of thyme
Heat up the oil in a large pot and add the chopped onions, squash and carrots. Stir fry for about two minutes and then add the vegetable stock. Cook the veggies for about 15-20 minutes until they are soft enough to puree with a blender. You might have to add a little vegetable stock if the soup is too thick. Add salt if necessary and sprinkle with a bit of thyme before serving.
This recipe is linked up at: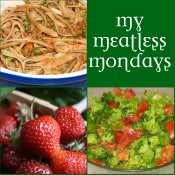 MerkenMerken
MerkenMerken